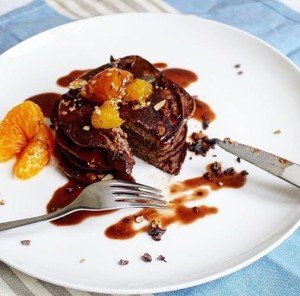 These chocolate orange pancakes are without a doubt a little slice of heaven on earth. They are a perfect breakfast indulgence when you have a little more time on your hands in the morning, but are still packed with goodness and loaded with healthy fats to keep you glowing from the inside out!
They are so quick and easy to make and are great as a post workout meal!
---
INGREDIENTS
1 banana
1 tbsp chia seeds
1 egg
1/2 tsp cinnamon
1/3 cup Rebel Kitchen's 'Chocolate Orange Mylk'
Pinch salt
For the Sauce:
1 tbsp coconut oil
1 tbsp cacao powder
1 tbsp peanut butter
splash of Choc orange mylk
METHOD
1. In a blender, combine all the ingredients for the pancakes.
2. Heat 1 tsp coconut oil in a pan and fry pancakes until bubbling and then flip over until cooked through.
3. Stack on a plate and prep the sauce.
4. Melt coconut oil in a bowl in the microwave and then add remaining sauce ingredients, mixing until well combined and thick.
5. Pour over the pancakes and enjoy with cacao nibs and mandarin slices
---