"Run, run, as fast as you can, you can't catch me I'm the gingerbread man!"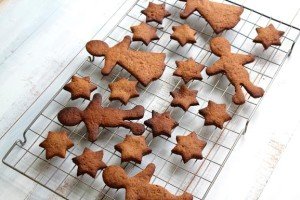 "It's been a quiet few weeks here with my recipe creations! I've been busy at a new job opening Deliciously Ella's Mae Deli which has meant early mornings and a lack of natural lighting to take any decent foodie photos. My mum and I always count down to the shortest day of the year and I'm so glad it's now only a few weeks away… bring on bright mornings! (This is wishful thinking, we still have a long way to go).
Anyway, this is a delicious little recipe that I've been itching to share with you all! I collaborated with Rebel Kitchen this month to come up with some festive recipes to keep us healthy over Christmas and not reaching for the sugar-laden treats.
These gingerbread cookies are so yummy and jam packed with goodness to make them a perfect afternoon pick me up with a hot Chai Mylk or warming cup of tea!
The icing isn't a must with the recipe but I personally became a little obsessed with it and thought it went so well with the cookies/biscuits! (You could always make it and save it to accompany another dreamy sugar-free dish.)
My decoration skills really failed me with this batch as my piping bag split and I ended up just liking the icing off my hands. YEAHHH CLASSY.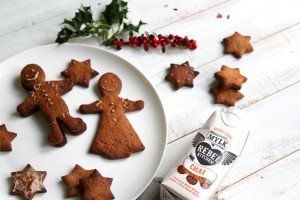 ---
INGREDIENTS
– 2 heaped cups spelt flour
– 1/2 tsp baking powder
– 1 tsp ground cinnamon
– 1/2 tsp ground nutmeg
– 1 tsp ground ginger
– 3/4 cup dates
– 2/3 cup melted coconut oil
– 4 tbsp maple syrup
– 1 tsp vanilla extract
– 1 chia egg *
– pinch of salt
* Combine 1 tbsp chia seeds with 2 tbsp water. Allow to soak for 10 minutes.
For the icing:
– 1/2 cup soaked cashews (soaked for minimum of 4 hours)
– pinch of salt
– 3 tbsp melted cacao butter (can use coconut oil)
– 1 tbsp maple syrup
– 3 tbsp Rebel Kitchen Chai Mylk
(I made the icing the day before and kept it in the fridge. It needs at least 3 hours to set)
Simply blitz together all of the ingredients in a high speed blender, food processor or nutribullet and leave to chill in the fridge.
METHOD
1. In a food processor, combine dates, spices and flour and blitz.
2. Add oil, maple syrup, vanilla and chia seed egg and blend again until well combined.
3. Remove the dough and flatten it out between two sheets of grease-proof paper. The dough should be about 3mm thick.
4. Pop in the fridge for an hour to allow all of the ingredients to set. (Freezer for 15 minutes if low on time)
5. Pre-heat oven to 150C.
6. Cut the dough into shapes and place on a lined baking tray.
7. Place in the oven and cook for 18-20 minutes or until golden.
8. Remove from the oven and cool on a wire rack.
9. Decorate with icing or serve on their own!
---