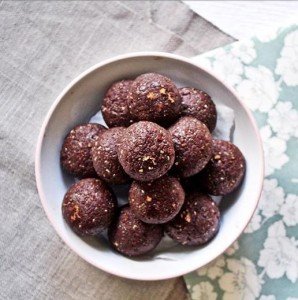 I am so glad I have friends that remember what I throw into my food processor! These guys were too good to forget and were a complete chance that they taste so amazing. They are great for snacking on or indulging of an evening, (they normally go pretty quickly when in my possession). The chilli and ginger compliment each other so well and are packed with goodness!
Chilli is an absolute super hero of a spice. It contains more vitamin C than oranges, fights sinus congestion, aids digestion and helps to relieve migraines and muscle, joint and nerve pain. It is also packed with vitamin E and potassium and is known to speed up our metabolism which is great for any PCOSers trying to shift weight.
The raw cacao also adds a world of goodness, rich in magnesium, iron, copper, zinc and potassium it is said to help lower blood pressure and improve circulation. It can also enhance physical and mental wellbeing, relaxing muscles and dilating blood vessels, giving the body a boost of energy.
These chocolate balls are so simple to make and can be ready to please guests (or yourself) in no time! The pecans and chia seeds also add a fantastic source of healthy fats and protein to keep you feeling sustained all afternoon!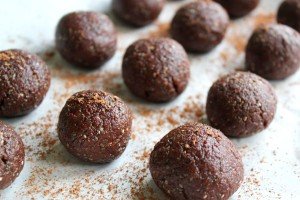 ---
INGREDIENTS
 2 cups pecans
1/4 cup maple syrup
1/2 tbsp ground ginger
1 tsp cinnamon powder
1/2 tbsp chilli flakes or ground chilli
1/4 cup raw cacao powder
2 tbsp coconut Oil
1 tbsp chia seeds
1 tsp salt
METHOD
1. Place the dates and pecans in a food processor and blitz until completely combined and sticky.
2. Add the rest of the ingredients and blend until mixed well.
3. Remove from the food processor and roll until balls.
4. Place on a lined baking tray that will fit in your freezer. Pop in the freezer and allow to set for 1 hour.
5. Remove from freezer and store in fridge until you want to tuck in!
---