I made these as the perfect Autumnal/Halloween treat and they taste amazing and go so well with a steaming cup of chai tea.
They are loaded with goodness and are made using buckwheat flour so are kind to our stomachs and stop any unwanted bloating!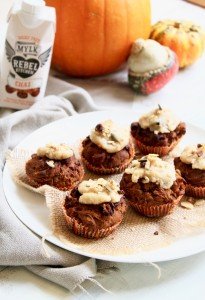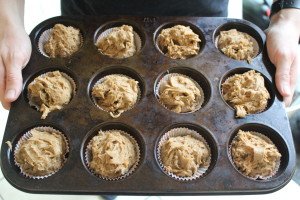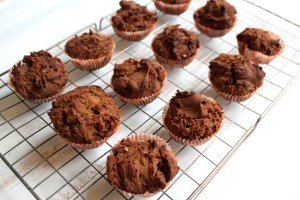 The main ingredient is actually sweet potato as I wanted to keep the sugar content down to make these a perfect snack to sustain blood sugar levels. Plus, I am so obsessed with sweet potato, particularly in the colder, darker months as it is packed with vitamin D which we become deficient in over Winter, causing seasonal affective disorder. Sweet potato actually boosts our levels so much that it makes us feel amazing! It is also high in potassium, beta-carotene and vitamin C, which helps accelerate wound healing and produces collagen which helps to keep our skin's youthful elasticity.
Pumpkin also adds so much to this dish and it's great to take advantage of seasonal vegetables whilst you can get them! It is packed with dietary fibre and vitamin A which boosts vision and brain function.
The muffins are also flavoured with Rebel Kitchen's 'Chai Mylk' which, along with the spices, adds such a delicious flavour!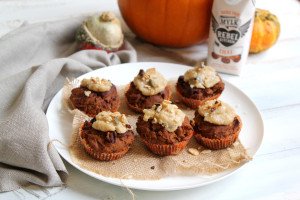 ---
INGREDIENTS
​Wet:
1 large sweet potato (roasted in the oven for about 45 minutes until soft and gooey at 200C)
1/3 cup tinned pumpkin purée
1/2 cup olive oil
1/2 cup Chai Mylk
3 tbsp good quality maple syrup
1 tsp vanilla extract
Dry:
2 cups buckwheat flour (or other GF flour)
2 tsps bicarbonate of soda
2 tsps baking powder
1 tsp mixed spice
1 tbsp Chinese 5 spice powder (make sure it doesn't contain garlic or onion- I made that mistake before)
1/2 tsp salt
Icing:
1/2 cup soaked cashews (soaked over night or for at least 2 hours)
3 tbsps melted coconut oil
1 tbsp peanut butter
1 tbsp maple syrup
Squeeze of lemon
1 tsp vanilla extract
---
METHOD
1. Pre-heat oven to 200C.
2. Peel the baked sweet potato and discard (or eat) the skin. Mash the flesh in a mixing bowl with a fork.
3. Whisk the mylk, olive oil, maple syrup and vanilla extract into the potato mix.
4. In a separate bowl, combine the flour, bicarbonate of soda, baking powder, spices and salt and mix well.
5. Fold the dry ingredients into the wet, making sure they are completely mixed.
6. Line a muffin tin with paper liners and evenly distribute the mix.
7. Bake for 20 minutes or until you can pull a knife out clean.
8. Once the muffins are out of the oven and cooling on a rack, make the icing.
9   . In a food processor, blitz the cashews until they begin to cream. Then add the remaining ingredients and mix well. If you're a fancy baker then use a piping bag to make the icing look fancy! But if you're not (like me) just spoon the icing on and enjoy!
---