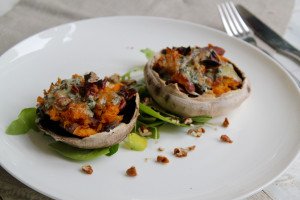 This is the type of meal that you absolutely don't want to end. I was sitting here eating it and genuinely making noises to myself about how good it was…. no shame. It was an absolute party for my taste buds and I could eat it over and over again (I probably will).
It's such a comfort food dish when you are craving something warm, delicious and healthy.
The blue cheese and pecans just hit the nail on the head as a finishing taste touch and it was absolutely too good not to share!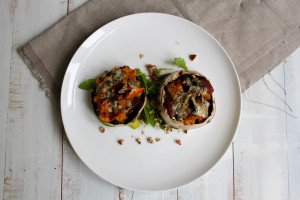 ---
INGREDIENTS
2 portobello mushrooms
1 small sweet potato
1 tsp chilli powder
1 tsp cinnamon powder
1 tbsp olive oil
A small handful of pecans (roughly chopped)
Blue cheese to your taste!
METHOD
1. Pre-heat the oven to 180C fan.
2. Peel the sweet potato and chop into chunks. Steam until soft.
3. Mash the sweet potato in a bowl with a fork and add the chilli and cinnamon.
4. Scoop out the inside of the mushrooms and add to the sweet potato mix.
5. Pop the mushrooms on a small baking tray and drizzle with olive oil. Bake for 5 minutes.
6. Remove from the oven and scoop the sweet potato mixture inside.
7. Add the pecans and blue cheese and place back in the oven for 10 minutes, or until cheese is gooey.
8. Serve on a bed of leaves and enjoy! (You will)
---