My all time favourite Granola!
This recipe I actually stole from my Mum and had to share it because it is so delicious. It's packed with nuts, coconut and cacao and full of goodness for a healthy start to your day.
I normally sprinkle it on top of my smoothies or eat it as a dessert with greek yoghurt, or even take it out as a little snack on the go!
I have honestly become so obsessed with it and usually make a big batch on a Sunday and it keeps me going for about 2-3 weeks (depending on who else in my house gets obsessed with it).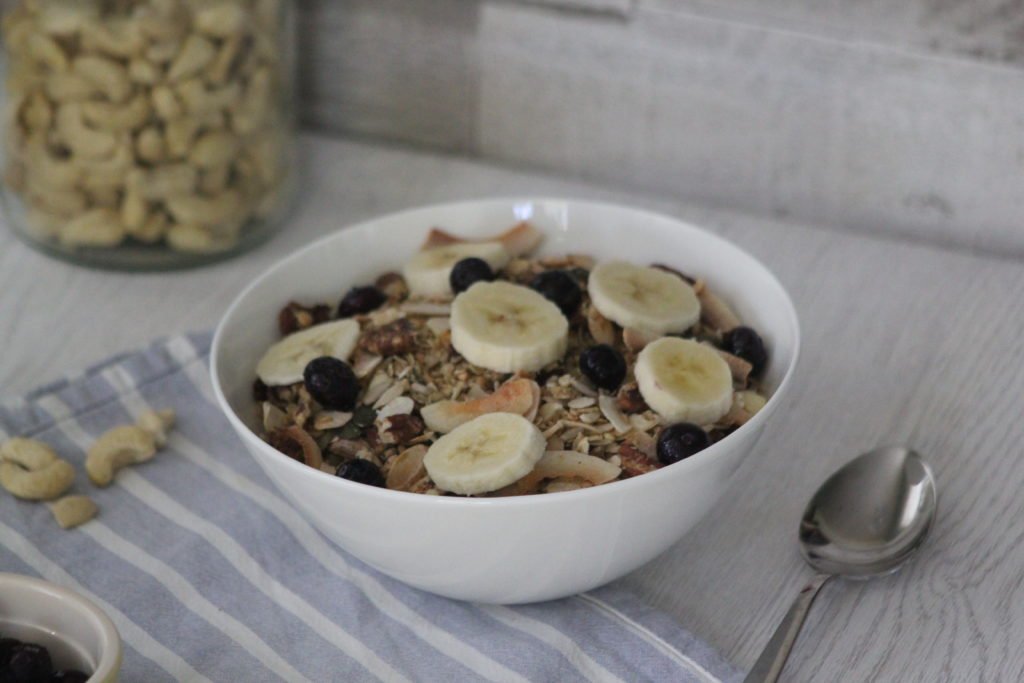 ---
INGREDIENTS
4 cups oats
1 cup buckwheat grouts 1/2 cup cacao nibs
1 cup flaked coconut
3/4 cup flaked almonds
1/2 cup chopped pecans 1/2 cup pumpkin seeds
1/2 cup sunflower seeds
2 tbsp chia seeds
1/3 cup good quality maple syrup
1/3 cup melted coconut oil Pinch of salt
METHOD
1. Pre-heat oven to 150C.
2. Place all ingredients into a large baking tray and mix well, making sure the maple syrup and coconut oil has reached every edge.
3. Pop in the oven for 20 minutes and then take out and stir thor- oughly.
4. Turn oven down to 125C and bake for a further 30 minutes, stirring every 10 minutes until golden.
5. Allow to cool and store in an air tight container.
---