This face mask is a definite game changer in my skincare routine. Not only is it amazingly beneficial for your skin, it also makes you look incredible when you have it on too…
So you may look like Shrek for the duration of its visit on your face, but that just means you can look like a fool for a while and just enjoy that feeling.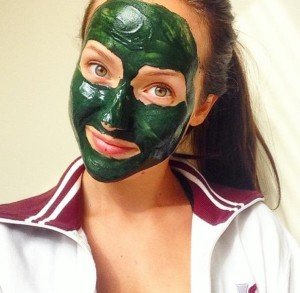 This mask is so perfect for when the weather begins to change and our skin is exposed to cold winds and then burning central heating; it gets completely confused! I also use it when my skin is suffering from breakouts after an indulgent weekend or just when I'm not feeling too sharp.
The main ingredient in this face mask is spirulina, which pretty much makes an appearance every day in my life. I may or may not depend on it for everything. It is packed with so much goodness when you eat it and also has massive antibacterial properties, which when put on your skin, helps to sort it all out!
The coconut oil and honey are also packed with antibacterial properties and additionally help reduce the signs of ageing. They are overwhelmingly moisturising and leave my skin feeling baby soft.
As a sufferer of combination skin, the turmeric and raw apple cider vinegar counter balance the oily parts and act as an astringent and help fight blemishes.
I use apple cider vinegar and coconut oil every single day in my skincare routine, I absolutely swear by them for your skin.
---
Ingredients
1 tsp spirulina powder
1/2 tsp ground turmeric
1 tsp natural apple cider vinegar
1 tsp raw honey
1 tsp coconut oil
Method

1. Simply mix together all of the ingredients in a bowl and stir until they form a smooth paste.
2. Rub all over your face and leave for about half an hour, or as long as you want to look like Shrek for. Then rinse with warm water.
---