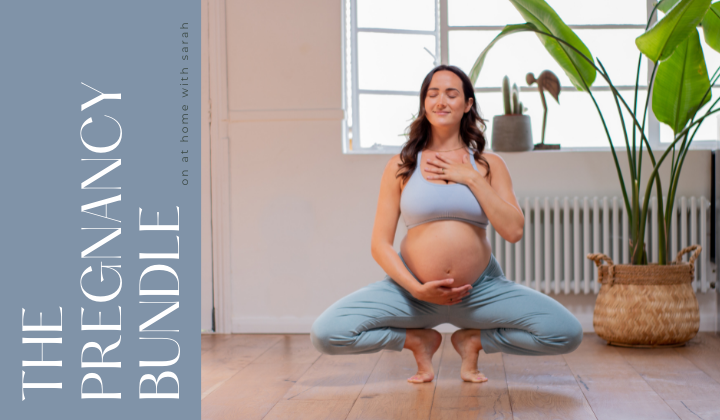 Welcome to The Pregnancy Bundle on At Home with Sarah. A carefully curated series of pre-natal yoga practices, designed to help you feel empowered, strong, supported and held on your pregnancy journey. In this bundle you shall gain access to five 45 minute flows; Earth, Fluidity, Empower, Love and Trust.
Suitable, safe and effective for all trimesters and all levels of yoga, these practices are for whenever you feel comfortable enough to move your wonderful body and will help you to find balance physically, mentally and emotionally, allowing you to get closer to your self and your baby as you navigate this path. 
The classes are planned and themed in a way that work best when followed from 1-5, so it is recommended you follow that path to best support yourself and your baby. However, if you feel called to practice these in your own way, please feel free.
All classes encourage strength and releasing movements, while creating space and nurture for your growing baby.
Each flow offers empowered breath techniques to calm your system and prepare for birth.
Disclaimer:
The information and instruction provided in this pregnancy bundle is for use as general information or for educational purposes only and is not a substitute for professional medical care provided by your GP or other qualified healthcare professional. If you have any specific medical concerns about your pregnancy or anything else you should always seek the advice of a qualified healthcare professional. If you experience any unusual pain or discomfort after attempting any of the positions featured in this video you should contact a suitably qualified healthcare professional for further advice. If at any point during you begin to feel faint, dizzy you should stop immediately. By engaging in these practices, you agree to do so at your own risk.