Sri Lanka has been high on my travel wish lists for almost 10 years and it absolutely did not disappoint. I've had so many requests to share our glorious two weeks in Sri Lanka so I thought I would begin to share some of the magic with you and what we got up to.
Deciding on travelling to a country is one thing, actually figuring out where you want to go and what you want to see in a country filled with so much beauty can be a whole other ball game entirely! When we were first planning our trip, I read countless travel blogs and trip advisor articles on where to go and felt completely overwhelmed by it all. Then I found out that Sri Lanka is actually half the size of the UK and felt much calmer at the prospect of trying to do and see as much as possible in two weeks whilst also trying to relax and have an actual holiday out of it too.
Our first week took much more of a tourist/traveller route as we explored central Sri Lanka. We then headed to the South Coast for a bit of relaxation. So here's a little run down of our route & our best bits…

COLOMBO TO KANDY:
We arrived in Colombo early in the morning and actually got an Uber the entire way to KANDY. We had looked into pre-booking a taxi before we left but it was looking extremely expensive, and the prospect of a packed train after a long flight was also less than appealing. So, we did a typical Londoner thing and ordered an Uber from the airport. The journey to Kandy was about 3 1/2 hours & cost us about £30.
2 NIGHTS IN KANDY:
In Kandy, we stayed in lovely The Rivora Residence which is about a 10 minute Tuk-Tuk ride outside of Kandy in a much quieter spot in the hills. I'm definitely glad we stayed a little further out of Kandy as it's slightly more hectic than I had imaged and it was lovely to be able to retreat out. We didn't jam pack our time in Kandy & actually didn't end up going further North to Sigiriya, which I do wish we had done if we had a little more time.
GO TO:
Temple of the Tooth at sunset.
Udawattakele Forest Reserve. We did this in the morning & it was a really peaceful hike with a great view point of Kandy and lots of monkeys!
Cultural Dance Show. I'm not sure if I would actually recommend this as it's an extremely touristy thing to do, but we actually had a really fun evening watching the dance show.
Eat dinner at Sharon Inn. This was recommended to me and was actually really great. They do a buffet dinner at 7:30pm on the rooftop and have an amazing selection of Sri Lankan curries which were all absolutely delicious. It's set up in the hills and we got there a little early & had a drink as it got dark- 'twas wonderful.
KANDY TO ELLA
We were too late for the train pre-bookings so we got to the station 2 hours before our train to get a 2nd class ticket to Ella. The train was 1 1/2 hours delayed but it wasn't much of an issue & we soon learnt that things are often late or delayed in Sri Lanka, it was a nice invitation to let go of the concept of time a little. The 6 hour train ride was one of my highlights of the entire trip & we were actually so glad we didn't get a 1st class ticket as the windows in 1st class don't open and all of the fun lies in sticking your head out the window! My mouth was hung open in awe pretty much the entire time, it was so wonderful and definitely something not to be missed.
2 NIGHTS IN ELLA:
We arrived in Ella and were picked up from the station by our guest house host. We stayed at The Ella Valley which I honestly think must have the most beautiful views in the whole of Ella. The room was definitely nothing special but the hammock outside to just take in the view of Ella Rock was unbelievable. The guy who ran it was also great & cooked incredibly inventive breakfasts… he even cooked us Porcupine! We only had one full day in Ella which was actually enough for us. The vibe is lovely and relaxing and we tried not to cram too much in to our time there.
GO TO:
Cafe Chill: We actually ate dinner here both nights as we loved it so much. A really chilled out dining experience (extremely busy) but a lovely menu and great Sri Lankan food as well as food from around the world. Head all the way into the back of the restaurant and go up the stairs to the top floor; it's definitely the best place to be. Great cocktails too.
Little Adam's Peak. We had intended to get up for sunrise to hike Little Adam's Peak, but it was pouring with rain when we woke up and didn't think it would be that much fun to hike in pitch black in the pouring rain, so we waited until after breakfast when the rain had died down before we took off. It was a great walk from our guest house and we got up just before the masses.
98 Acres. A beautiful spa & resort in the hills. We stopped here on our way down from Little Adam's Peak for an iced tea and a little bird watching.
9 Arch Bridge. After our refreshment we hiked straight on to the 9 Arch Bridge. We got a little lost and had to walk through many people's gardens and houses to get there (although I think that was a legitimate route down). The bridge was really spectacular and then we walked all the way along the train tracks back to Ella station which I would definitely recommend.
Hike Ella Rock. We didn't actually do this but if we had more time we would have liked to hike Ella Rock for sunrise.
ELLA TO UDAWALAWE
Our next destination was just North of Udawalawe National Park where we stayed in the absolutely breathtaking Banyan Camp. I could not recommend this place enough (but also kind of want to keep it a secret, so lucky you readers). The camp is set on a lake, completely immersed in nature, so much so that we had monkeys and chipmunks in our lodge at night (much to our first night terror). We stayed in the Champagne lodge which is made from champagne bottles, and there are a few other lodges to stay in, with more being built at the moment. The food was by far the best we ate during our whole time in Sri Lanka, in fact, I think our stay here was my highlight.
2 NIGHTS AT BANYAN CAMP
We spent our two days here out on a canoe trip on the lake, swimming in the croc infested waters (apparently they don't care for humans?!), bird watching, watching the monkeys swinging around, and completely switching off from technology. Our safari trip to the national park was also so wonderful and saw an overwhelming amount of elephants in the wild; it was fantastic.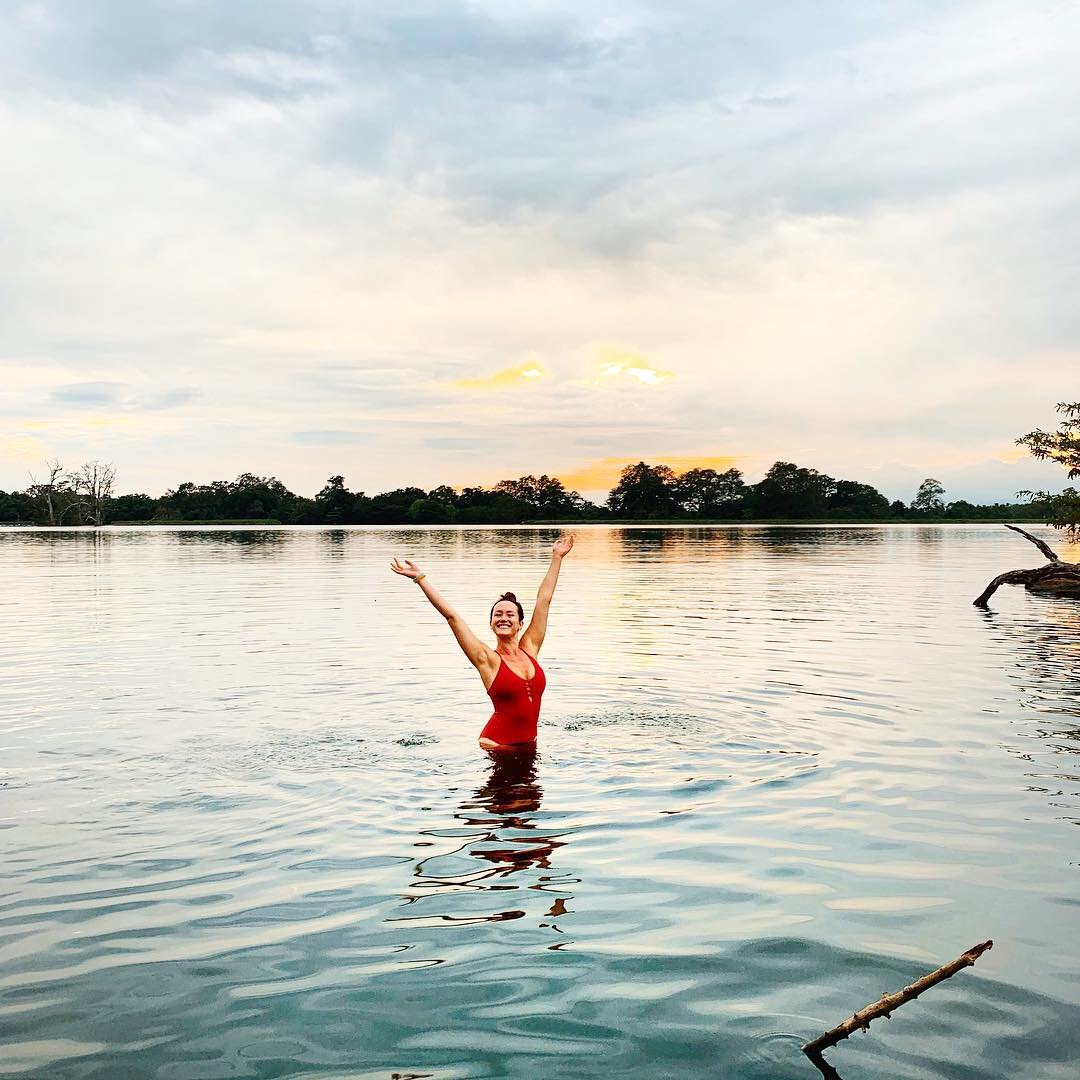 UDAWALAWE TO MIRISSA
After our heavenly two days in the wilderness, we got a 3 hour taxi (organised by Banyan Camp) all the way to the South coast and to our first stop in Mirissa.
I'd read in a lot of travel guides that Mirissa was a must on the South Coast but as lovely as it was, it felt very touristy and I honestly didn't love it that much. We stayed at The Spice House which was perfectly lovely. We actually got locked out though as we spent a little too long out with friends in the evening and came back passed 11pm… don't be prepared to stay out late in Sri Lanka, everything closes early! Mirissa was great to see but I'm glad we only had one night there.

MIRISSA TO AHANGAMA
Leaving Mirissa, we took a Tuk Tuk 20 minutes along the coast to Ahangama, which is just passed busy surfing beach, Weligama. Honestly, I had planned our entire trip around this stay as I was SO looking forward to our stay at The Kip aka HEAVEN ON EARTH. A friend had told me I simply had to stay here so I had my heart set to love it and I absolutely did. We spent 3 nights in this little slice of paradise with the most wonderful of hosts. We then used this as a base to explore the South Coast a little more. The hosts, Phoebe & Seddy, have amazing recommendations of what beaches to go to, where to surf etc.

We also visited Galle from here. We knew we wanted to visit Galle but weren't that fussed about staying there, so we hopped on the train for about 12p from Ahangama straight into Galle (took about 30 mins). We wandered around beautiful Galle Fort for the afternoon, watched the sunset, had dinner at A Minute by Tuk Tuk and then hopped on the 8:30pm packed commuter train back to Ahangama.
EAT AT:
The Kip. If you can't get a room here then definitely come for the food. Their cafe is open every day except Monday and serves deeeelicious food, juices, smoothies and treats.
Ceylon Sliders in Weligama. Go for dinner so you can eat on the rooftop and get the Mahi Mahi burger… you will not be disappointed.
Chef Akila Kitchen. It looks really unassuming and the service isn't great but the food was incredible, especially the fish.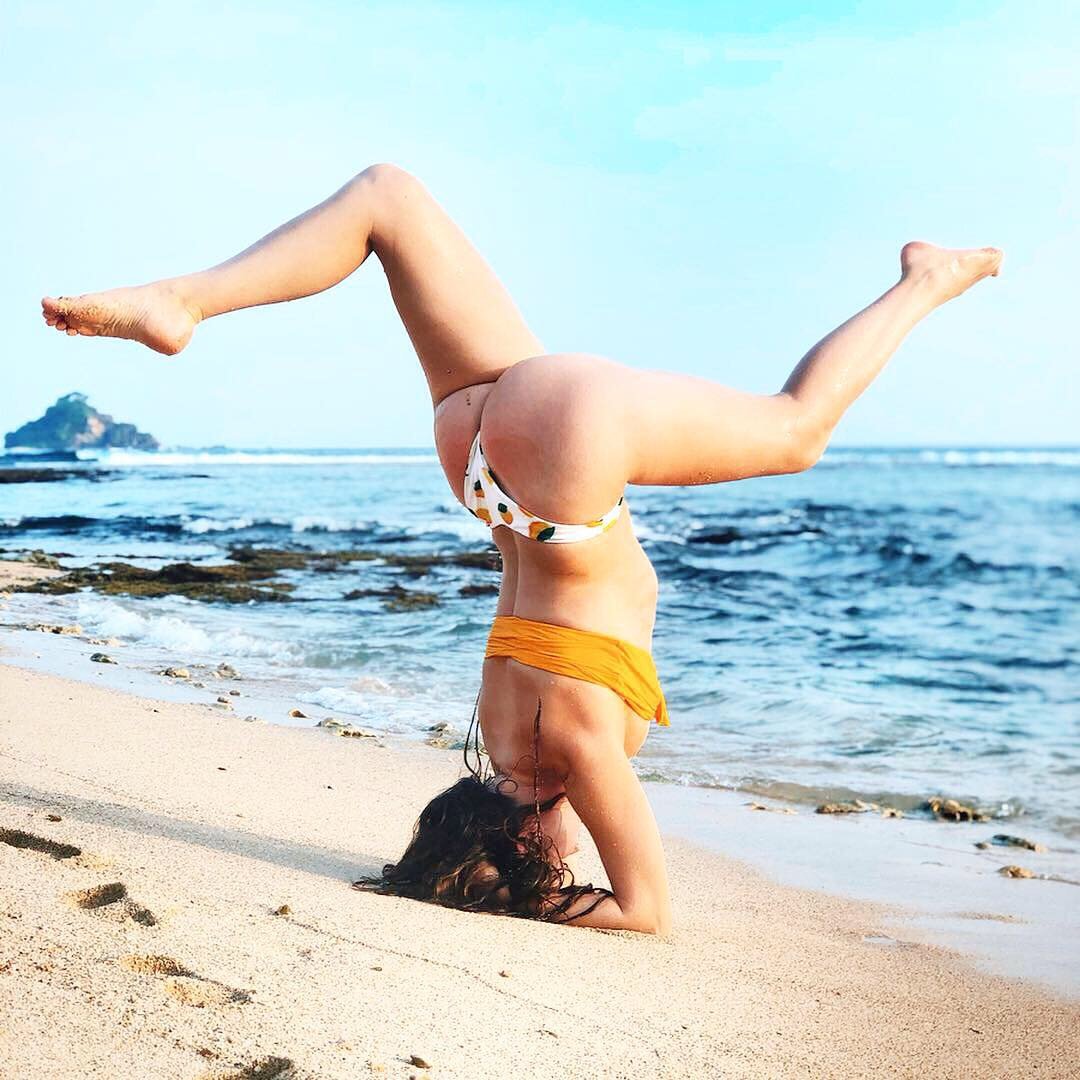 DO YOGA AT:
Sri Yoga Shala. About a 25 minute Tuk Tuk from the Kip, set back in the jungle. They have daily classes and you can use their gorgeous pool afterwards too.
AHANGAMA TO HIRIKETIYA
We had purposefully left 3 days of our trip open as we weren't entirely sure on where we wanted to spend our time and hoped that we'd meet people along the way who told us where we should go and luckily we did! A few lovely people told us we simply must not miss the small, secluded bay of Hiriketiya. Even though we were back tracking slightly, we took another Uber (so cheap) an hour and a half West to Hiriketiya. It was instantly wonderful and more untouched than a lot of the bigger places along the coast, although the beach gets packed out.
We stayed in The Residencia which was about 20m from the beach and tucked away down a quieter road. The location was wonderful and our room was lovely, although the staff barely spoke any English so it was quite hard to communicate with them. We spent 3 glorious days surfing, doing yoga, exploring the coast by foot to Dikwella and a lovely little beach called Blue Beach and eating to our hearts content. A happy 3 days indeed!
STAY AT/EAT AT/DO YOGA AT
Dots Bay House– a really great, young vibe right on the beach. I didn't see the rooms but seemed nice. They have daily Yoga classes (which you can go to even if you're not staying) and a great menu. A lovely place for drinks.
The Salt House- a similar vibe to Dots but set back a little. Also do yoga classes and have a lovely menu.
The Verse Collective- located on Dikwella beach but a really nice place and you can easily walk over to Hiriketiya.
The Garlic Cafe- they do a lovely Sri Lankan veggie buffet in the evenings.
Jasper House- A beautiful hotel with a yoga shala & restaurant.
The Grove– Get the mahi mahi tacos, they're SO GOOD. They also do a delicious Iced coffee.
HIRIKETIYA TO COLOMBO
My heels were definitely digging into the sand and wanting to stay in Hiriketiya forever, but after 3 glorious days there we reluctantly took a taxi all the way back up to Colombo for our final evening.
We stayed in a place called Villa Raha in a quieter district of Colombo which was nice enough. I didn't love Colombo. Probably because I'd just spent a week on the sun kissed coast but Colombo is essentially just a busy city. There's probably a whole lot more to it, but we didn't stay long enough to venture.
GO TO:
A fabulous shop called Paradise Road, which is a treasure chest of homeware (aka my idea of heaven).
The rooftop of the Kingsbury Hotel for a drink and watch the sunset.
Ministry of Crab for dinner. You might have to book in advance as it's a hot spot and definitely the most expensive food we ate in Sri Lanka costing about £35 a head, but a really lovely meal.
Having been home for almost a week, I am already planning my next visit to Sri Lanka. It is a country of beautiful people, mouth watering food & gobsmacking scenery. It is surprisingly easy to get everywhere and the people are so friendly. There are many many places we didn't get to and we did tread quite the beaten track so a lot of the places we went to are geared up for tourists. The hot spots in Sri Lanka are also seasonal, so do check what parts are in and out of season before you go. But I couldn't recommend it enough, it was an absolutely sensational 2 weeks.