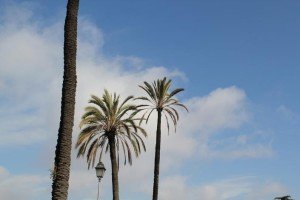 I spent the weekend getting lost in Rome's wonderful cobbled streets and eating more food than is humanly possible! It was such a lovely weekend and much needed after what's seemed like a mad few months. My life has been twisting and turning a lot lately and I'm figuring out a new routine and new goals so it was the perfect time to escape and get transported into a new playground full of winding streets and fresh coffee…
I always have a slight panic whenever I go away. I am determined to both engross myself in the culture of a place and try everything I can and yet I also know that I need to eat for my body and find a balance so that I don't send my hormones into shock. I was quite worried about eating well in Rome, being the heart of pasta, pizza, wine and gelato (all things heavenly), so we decided to nab ourselves a lovely little self catering apartment in the heart of Trastevere where we could make our own nutritious breakfasts to fuel us for our busy walking days and also cook ourselves some greens if our bodies were crying out for them.
I had tried to research some health spots before I headed into the temptation of too many sugar fuelled meals and I was so glad that I did. I feasted on some delicious raw vegan food and nutritious smoothies that definitely kept me going for the weekend, but I definitely think it's so important to eat what you really want when you go away. I balanced my days with overnight oats for breakfast, veggies for lunch and then didn't feel guilty when I could try the amazing pasta dishes… when in Rome kids!
So here are a few perfect places to stop off at in Rome to make sure you don't crash and burn throughout your days (plus some general snaps).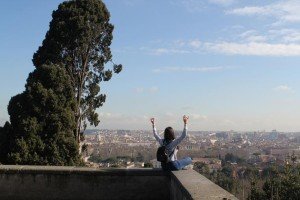 Just being your typical tourist…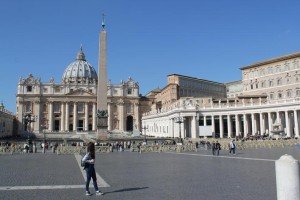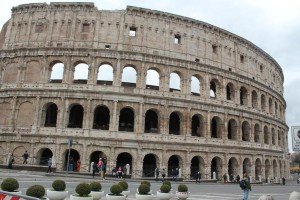 ---
First on the list is this amazing Raw Vegan Cafe. I was so glad I came across Ecru as this was exactly what I was craving. I spent the majority of my time trying to figure out what to order as it all looked incredible! I opted for some carrot noodles in a creamy mushroom sauce which were heavenly. My mum got a beautiful Tartare of avocado, beetroot and pumpkin with raw bread and we washed it all down with a fennel, carrot, celery & cumin juice.
The vegan sushi looked absolutely incredible and if I lived in Rome, I would absolutely go here pretty much every day. We also finished our meal with an amazing raw chocolate cake and we went back for more on our last day when we were cold and wet and needed warming up with raw hot chocolate!
A definite must for all you healthy beans!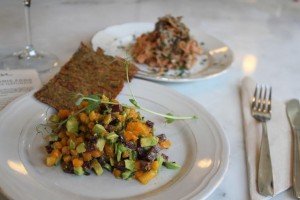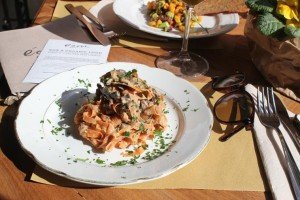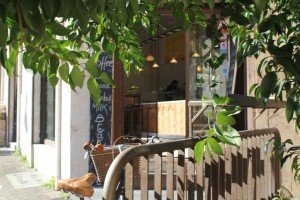 ---
Okay so this isn't technically healthy but you've pretty much got to have Gelato in Rome and this is the best of the best! They make all of their gelato on site and roast their own hazelnuts. We devoured the hazelnut and the 100% pure cacao. They don't mess around! The flavours were so delicious and they use minimal sugar to focus on the natural flavours. Definitely worth a lick or two.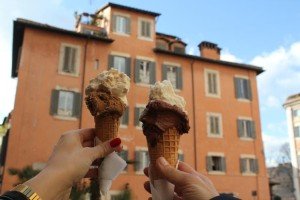 ---
On our second day we stumbled upon the most wonderful farmers market full of endless cheeses, olive oil and an array of flowers. Outside, there was a little food truck selling homemade soups and as the rain started the approach, it felt like the perfect lunch time pick me up. I opted for the artichoke soup with spelt grains and a dollop of greek yoghurt, it was so simple but so delicious. I questioned the man about his produce and he told me that Camden Market was his inspiration. The market was so authentic and a lovely find!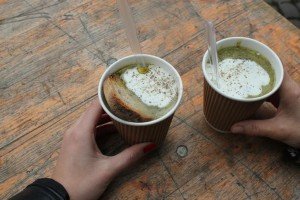 ---
Fa-bio is the perfect stop for a quick lunch or snack and so close to the Vatican! You would very easily miss it but it's well worth a trip as the staff are so friendly and explain so much to you. They make fresh salads to order and an array of sandwiches, juices and smoothies. I asked the friendly man to make me the healthiest smoothie he could think of and the result was just what I needed with an extra dose of Spirulina! We also grabbed a smoked tuna salad to go. (The food was more attractive than my face here).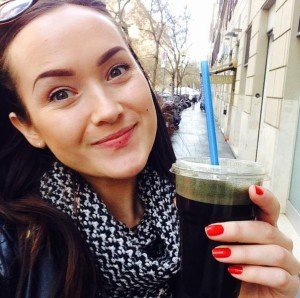 ---
I stumbled across some other healthy haunts but didn't get around to eating everything in sight! I will definitely be back to try them, but if you do then please let me know what you think!
GREZZO: The best spot to enjoy a feast of raw chocolates!
AROMATICUS: Very close to Grezzo so I would definitely grab lunch there and head to Grezzo for dessert…
BANANA TRASH: Tucked away in Trastevere, if I had found this little gem sooner, I would have spent every morning gorging on their Acai Bowls.
AT RESTAURANT: I found AT on my last day and only had time to grab a vegan quinoa croissant which was heaven in a pastry! I'm not sure if it was refined sugar free but it was definitely more on the savoury side. They also have fresh salads and a huge selection of smoothies! Close to the Pantheon and Trevi Fountain!