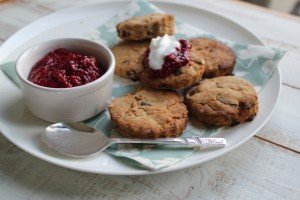 Scones have to be one of my favourite Spring afternoon treats! When I was at university, my favourite day off was spent at The Orchard in Grantchester. It seriously does the best scones in the entire world and are almost as big as your head! Enjoying them in green deck chairs under the apple blossom with birds twittering around, pretty much makes you feel as though you're in a Jane Austen novel.
Now that I've moved back to London and no longer base my life around sugar, it's pretty much the thing I miss most about the warmer months. So I've come up with the perfect Scone recipe that will make you feel like you're not missing out on the sweet version, in fact, it will make you feel even better about it!
I have a mild obsession with cardamom at the moment which actually makes these scones taste so incredible! Skip the dates if you're after a less sweet version or add a touch more if you're still hanging on to that sweet tooth! I've also combined flours to create a balance between texture, taste and health but feel free to use one or the other or an alternative flour!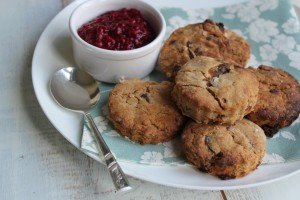 ---
INGREDIENTS
(makes 12)
1 cup buckwheat flour
1 cup spelt flour
1 tsp ground cinnamon
2 tsp baking powder
4 cardamom pods, seeds crushed and skins discarded
100g coconut oil
1 tsp vanilla extract
1 tsp honey (feel free to use a little more if you like them really sweet or maple syrup if Vegan)
1/2 cup milk (I used brown rice milk)
3/4 cup pitted dates chopped into little chunks (alternatively use raisins)
Oats to coat
METHOD
Preheat your oven to 200 C.
Combine the flour, cinnamon, cardamom and baking powder in a bowl.
Gently rub in the coconut oil using your fingers until combined throughout.
Add the dates.
In a separate bowl, mix the milk, honey and vanilla and then gradually pour into the dry ingredients, mixing to a sticky dough.
Sprinkle a little flour and oats on a work surface and place the dough over the top, flattening until it's just over an inch thick.
Using a cutter or sharp knife, cut into circles.
Place on a lined baking tray and bake for 15 minutes.
Best served straight from the oven with Chia Seed Jam and greek yoghurt 🙂
---