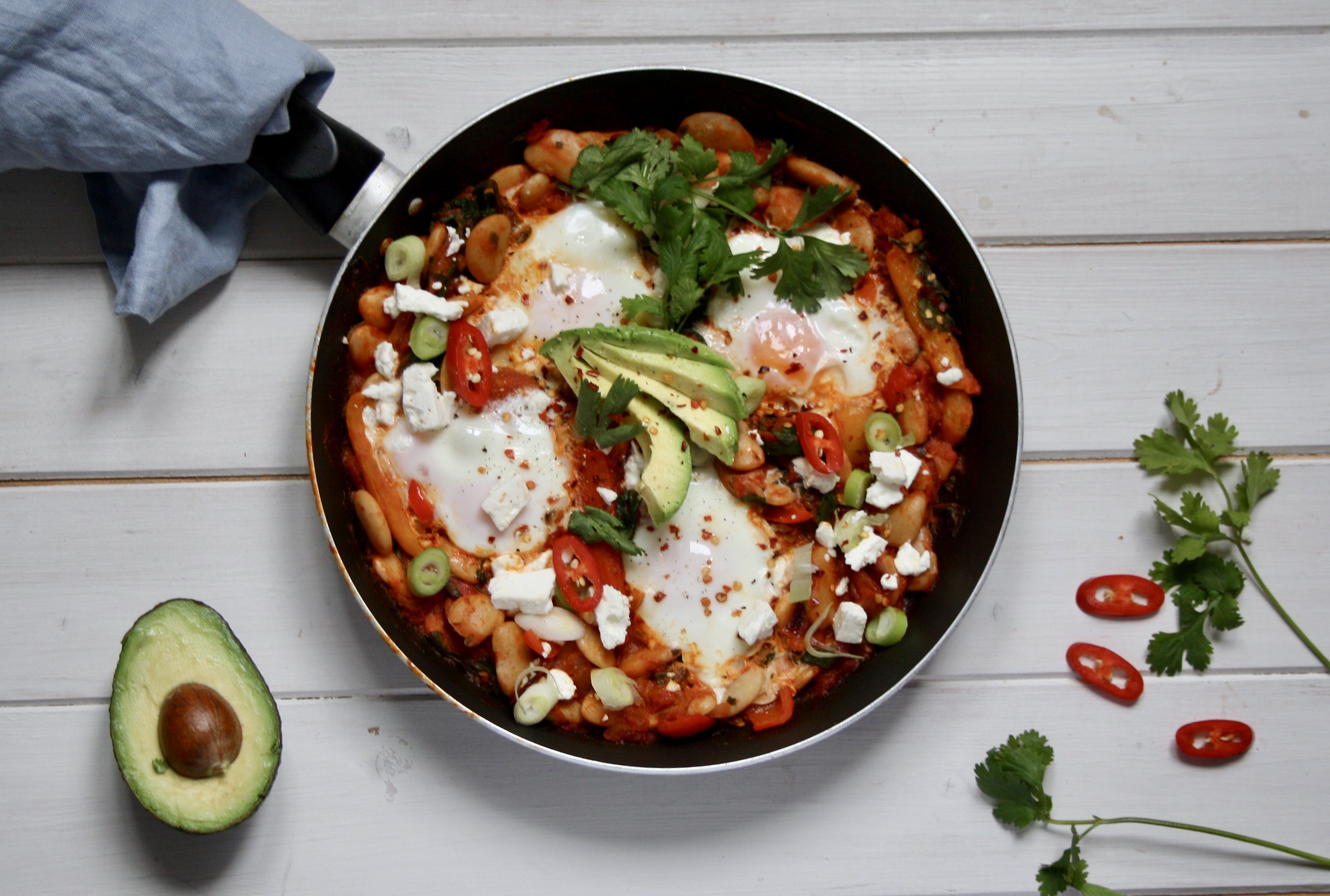 Going for Brunch is pretty much my favourite thing to do. In fact, it is my favourite thing to do. What else compares to waking up and heading out to a brunch spot and eating your way through your morning? Even though I am a massive breakfast lover and enjoy all things sweet and indulgent, like chocolatey porridge, every time I think of brunch, I think of good old eggs (Not actually old eggs because you may fall ill).
Eggs are pretty much the best thing you can start your day with (after that trusty lemon water), as they are a powerhouse of protein, healthy fats and omega 3! For PCOS sufferers, they really do wonders for us and the protein helps to keep insulin levels at bay and our hormones extremely happy.
Shakshuka is a dish from the middle east where the eggs are baked in tomatoes, peppers and onions which make for the perfect healthy combo and with the added benefit of some greens in this masterpiece.
We threw in some chorizo in this recipe, which I'm not normally a fan of, but it cooks down and adds so much flavour to the dish! You can absolutely leave it out if you wish and even play around with other ingredients such as kale or aubergine.
One of my best friends is an amazing cook and is a genius in making everything taste incredible. Being an Italian, she knows how to make flavours come alive and when I've made a bland salad, she has just the tricks to make it zing! So really, I am stealing her recipe on this one. The perfect healthy and hearty brunch dish to share with friends from the comfort of your own home…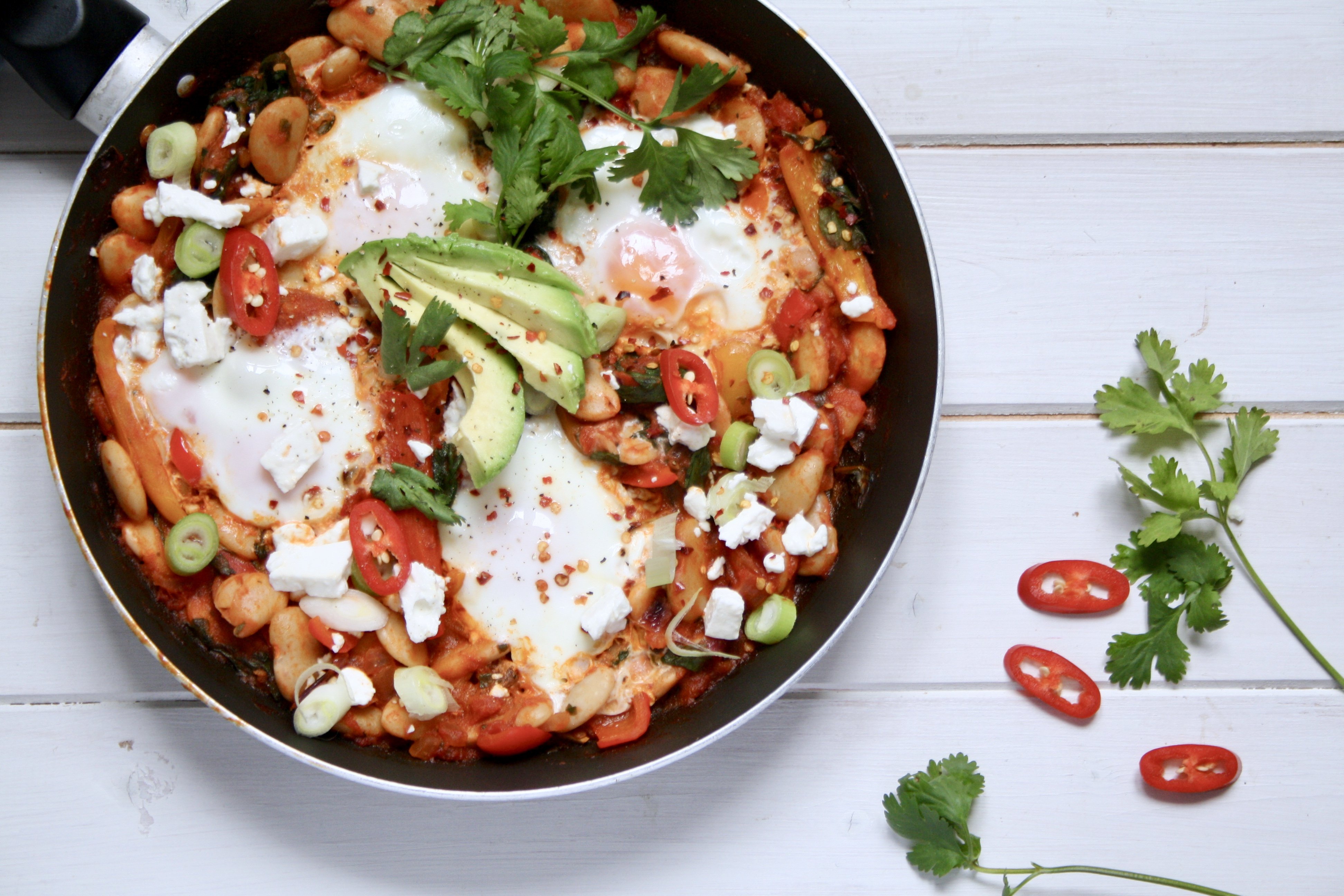 ---
INGREDIENTS
(Serves 3)
-1 red onion (diced)
-2 tins chopped tomatoes
-2 cloves garlic (diced)
-1 red chilli (finely chopped)
-2 sweet peppers (diced) – we used red and yellow
-1 tin butter beans
– Chorizo (optional)- chopped to discs
-2 big handfuls of spinach
-3 eggs
-1 tbsp olive oil
– Juice of half a lemon
– Salt & pepper to taste
– 100g feta cheese
– 2 spring Onions (roughly copped)
-Handful of fresh coriander (roughly chopped)
METHOD
1. Pre-heat the oven to 200C fan.
2. In a large pan, add 1 tbsp olive oil with the onion and garlic and stir until the onions soften.
3. Add the peppers and chilli and leave to cook for a further 3 minutes.
4. Throw in the tinned tomatoes and stir in with the spices. Allow to cook for 5 minutes.
5. Add the drained butter beans, chorizo, spinach, lemon and salt and pepper and leave to simmer for a further 5 minutes.
6. Make 3 wells in the sauce and crack the eggs in then add half of the feta and sprinkle on top.
7. Bake in the oven for 6-8 minutes (depending on how runny you like your eggs).
8. Remove from the oven and add the remaining feta, spring onions and fresh coriander and serve!
---
Don't forget to tag me on instagram if you make your own! @sarahmalcs