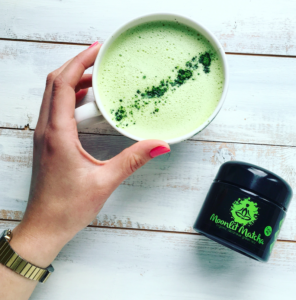 If you're hopelessly trying to down a matcha latte to reap the endless benefits but can't seem to stop the squirm and head shake as it glides down your throat ready to make you glow from inside out, then I've come up with a recipe that will allow you to enjoy it as a hot, delicious drink, rather than a form of punishment.
I remember about 2 years ago having to plan my days around where I could get a matcha latte… okay this is an exaggeration but to my knowledge there was only a handful of places in London that would serve up a decent cup of green, so I would get off the tube at Goodge Street, grab a matcha at YumChaa and then walk to work in Waterloo. But now, you can walk down most streets and see matcha on the menu! Whata delight, am I right?
I always choose to have my matcha unsweetened and with brown rice milk as it adds a delicious natural sweetness to the drink and sometimes almond milk frothed can taste too bitter.
This recipe was inspired by those bullet proof coffees that are sneaking around doing all sorts of goodness. However, Coffee and I don't really get along too well (it spikes my insulin levels too much so stay away PCOSers), so this alternative is a lot calmer on your body and naturally energising!
---
RECIPE
1 tsp Matcha Powder (I used http://www.hybridherbs.co.uk/matcha)
1/2 tbsp coconut oil
1/2 tbsp natural peanut butter
1 cup of brown rice milk (or any plant based milk)
2 mint leaves
METHOD
Mix the matcha powder with a few drops of boiling water and mix into a paste, then add a few more drops.
Heat the milk in a pan until steaming but not boiling.
Pour all of the ingredients into a nutri-bullet or blender and blitz until frothy.
Pour into your mug and enjoy!
---