This week has been a good one! My news on Wednesday kept me feeling high on life for the rest of the week. But the weather here in England doesn't seem to want to jump on my band wagon, so I decided to warm my heart, stomach and taste buds with this delicious chocolate chai baked zoats and hide from this rainy day with my face in food… naturally.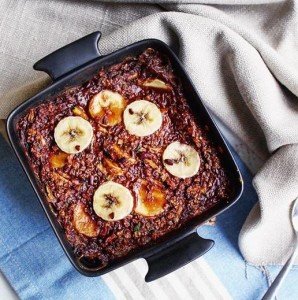 'Zoats' are something I've become ever so slightly obsessed with. Adding courgette (or zucchini for the 'Z') to your porridge/oats in the morning may seem extremely strange to a lot of people. But the addition of the vegetable is surprisingly lovely and adds not only a lovely creamy texture but also ups your greens without you really noticing it!
The 'baked' of this dish was actually a completely new thing for me and this was my first oat baking experience… needless to say I think I'm pretty sold. There are also so many variations, such as baked apple or rhubarb! Not only does this taste like heaven in a ceramic dish but it's also amazingly good for you! Refined sugar free and dairy free, it is loaded with goodness from the courgette and some hidden chia seeds to up your protein and omega 3.
So let's get to the good stuff…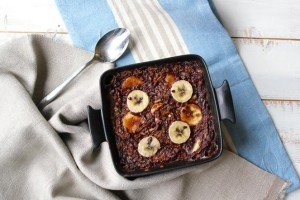 ---
INGREDIENTS
3/4 cup oats
1/2 courgette (zucchini) grated
1 tbsp chia seeds
1 tsp cinnamon powder
1 scoop protein powder  (I used chocolate whey- optional)
1 cup milk of choice (I used Rebel Kitchen's Chai Mylk) *
1/2 a banana
METHOD
1. Pre-heat oven to 180C.
2. Combine all of the ingredients in a bowl (apart from the banana) and mix well.
3. Put in the microwave and heat for 1 minute, stir well and then heat for a further minute.
4. Chop the banana into coins and stir through half, then place the rest on top.
5. Pour into an oven proof dish and cook in the oven for 12-15 minutes.
6. Enjoy!
*If not using Rebel Kitchen mylk, use same amount of any other dairy-free milk and add 1 tbsp cacao powder, 1 tsp of mixed spice and 1 tbsp of sweetener (such as maple syrup or honey).
---