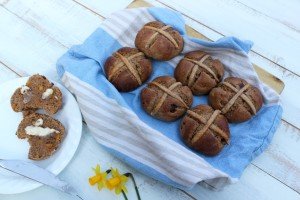 Easter is absolutely my most favourite 'holiday' of them all! Not only is the weather getting warmer and brighter with the birds tweeting even louder, Easter Sunday definitely brings the best eating day of them all! (Christmas feasts have too much pressure around them). I also am an absolute sucker for mint sauce so when the roast is out and I can lather peas and broccoli in mint sauce and then follow the whole thing with endless dark chocolate, I'm pretty much in my dream world.
The build up to Easter brings many other delights with egg hunts and coming home while it's still light to toasted Hot Cross Buns and a cup of tea. That 'and relax' moment is pure delight. I've created these healthy Hot Cross Buns bursting with nutrients and goodness to provide you with a non sugar crashing Easter and they do not disappoint.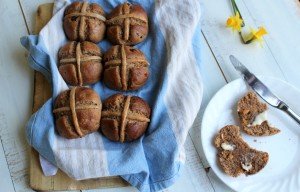 I've used whole-meal spelt which, whilst still containing gluten, is much easier on the digestive system and is packed with healthy fibre. It also contains high levels of iron and copper which helps to improve blood circulation in turn boosting energy levels and your metabolism! If you are gluten intolerant, you can absolutely try out this recipe with Buckwheat flour, but I cannot promise it will have the same texture!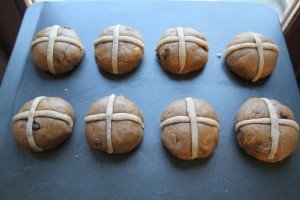 These Buns are refined sugar free and not as sweet as the traditional ones, but if you have a sweet tooth then feel free to add slightly more honey! I personally like them slightly savoury.
Best served hot or toasted with a drizzle of honey and perfect for Easter weekend.
If you're vegan you can absolutely make substitutes and alternatives are listed in the ingredients!
---
INGREDIENTS
2 cups (280g) wholemeal spelt flour
1/2 cup milk (I used unsweetened almond milk)
1 egg (or chia egg)
4 tbsp coconut oil (or any other type of oil)
1 tbsp honey (or coconut sugar/maple syrup)
1 tsp yeast
2 tsp cinnamon
1 tsp mixed spice
1/2 tsp sea salt
Zest of 1 orange (about 2 tsp)
1/3 cup dried apricots
1/3 cup currants or raisins
For the crosses: 1/2 cup spelt flour & 2 tbsp almond milk
Sugared water: Mix 1 tsp honey (or coconut sugar if you have it) with 2tbsp water
METHOD
In a bowl, mix the flour, yeast, mixed spice and salt.
Whisk the egg, coconut oil, honey and almond milk together in a pan over a medium heat until the coconut oil melts and the milk is warm and then slowly mix into the flour mixture.
Fold in the apricots, currants and orange zest and kneed until it forms a dough.
Put into an oiled bowl and leave in a very warm place for an hour to rise.
Pre-heat the oven to 180C fan.
Kneed the dough continuously for 5 minutes and then cut into 8 balls.
Make the white crosses by combining the spelt flour and almond milk and rolling into long sausages, placing over the buns to make crosses.
Place the buns on an oiled baking tray and lightly brush with the sugared water.
Pop the buns in the oven for 15-17 minutes until golden brown. Brush again with the sugared water to make them shiny and serve warm or toasted with honey.
---