Whenever I'm ill or feeling run down, I always turn to food first to cure me. I absolutely hate the idea of popping pills as soon as I feel the slightest of headaches. Your body is speaking to you to slow down or change something and usually the cause of my illnesses are always after a period of stress, lack of sleep, bad diet or lack of water. So these are the things I turn to first for a little help.
I've just returned from the most incredible week in Iceland (travel post to come soon) but sometimes it's so hard to keep track of your body when you're constantly on the go and driving and mindlessly snacking (a lot) so it doesn't surprise me when I get home and my body suddenly goes "woaahhh that was a lot, let's do some mending now".
So I upped my nutrients and drank more water and tried to force myself not to feel too guilty about not exercising. This noodle soup is one we made a few times whilst in Iceland because you really don't need a tonne of ingredients. It's so simple to make and can be adapted to suit what your body needs at the time. I've upped the greens for this one and added extra ginger along with buckwheat noodles instead of rice noodles. It really does wake up your entire body and feel like it's doing the world of good!
---
CLEANSING BUCKWHEAT SOBA NOODLE SOUP (serves 3/4)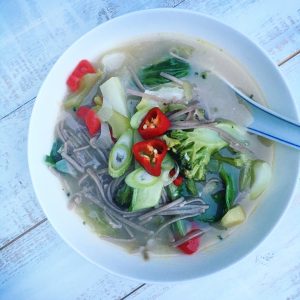 ---
INGREDIENTS
2 inch piece of ginger, chopped
2 cloves of garlic, minced
1 red chilli with seeds, sliced (add more or less if you like some fire)
3 spring onions, chopped
1 chicken stock cube (or vegetarian/vegan alternative)
1 pak choy
Handful of broccoli florets
Buckwheat soba noodles (or noodles of your choice)
METHOD
In a large pan, gently heat the ginger, garlic, chilli and spring onions on a low heat to bring out the flavour.
Add the stock tube and stir, before pouring in 2L of boiling water.
Rinse the buckwheat noodles under cold water to remove some of the residue and add to the pan, along with the broccoli, allowing to cook for the cooking time on the packet.
Add the pak choy once the noodles are cooked and top with some tamari or sriracha.
Serve with a sprinkling of fresh spring onions and enjoy!
---