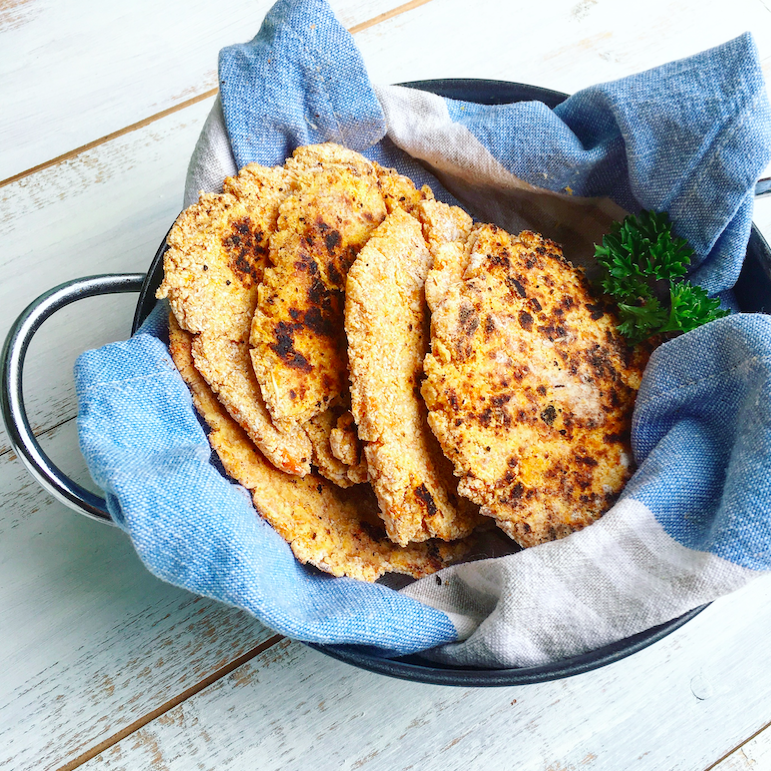 Lately I have been really craving lots of flavour and spice so last week I decided to make a healthy Sri-Lankan curry spread for my pals. On the menu was a chicken curry, delicious dhal, coconut sambol, cauliflower cardamom rice and these Rotis sent from heaven!
I was so obsessed with them but they were a bit accidental, so I decided to remake them and improve the recipe and now they are even better! I actually teamed them with avocado, lemon and chilli for lunch and it was an amazing combo!
They are overwhelmingly simple to make and taste like Peshwari Naan which I am the biggest fan of, so feel free to add some sultanas in the mix for added sweetness. They also work really well with some minted greek yoghurt!
Coconut flour can be found in most health food shops but if you're struggling to get hold of it then use 1 cup of your preferred flour and add 3 tbsp desiccated coconut.
---
INGREDIENTS
1 medium sized sweet potato
3/4 cup spelt flour (can use buckwheat if GF)
1/4 cup coconut flour
2 tbsp desiccated coconut
pinch salt
coconut oil for frying
METHOD
Steam the sweet potato for about 30 minutes or until it is completely soft and gooey.
Peel and discard the skin and mash the sweet potato really well in a bowl.
Add the flour, salt and coconut and mix well until completely combined and a sticky dough has formed (add a little more flour if needed).
Dust a surface with a little of the flour and roll out the dough to make a thick sausage and then cut into 8.
Heat 1 tsp of coconut oil in a frying pan on a high heat.
Taking each section of dough at a time, flatten out to form a pancake about 2mm thick and then place in the frying pan.
Allow to cook for about 2-3 minutes before flipping over.
Repeat with all of the dough and keep the rotis warm in a covered basket.
Serve with curry and enjoy!
---