Last week, my friends and I set off on an adventure to the wonderful land of Ice… Iceland! I have always wanted to go to Iceland and since reading Phillip Pullman's 'His Dark Materials' Trilogy, it has been a life long dream to see The Northern Lights, so I was so happy that my friends were keen to go and really, I owe all the planning to them as I battled my way through an overwhelmingly busy month! Lots of people have been asking about our trip so I've decided to go all out with our day to day schedule…
Our itinerary was perfect for the week we had as we never felt too rushed or too bored in one place (although I don't think I could ever get bored of the scenery in Iceland). We began our trip, like the masses, in Reykjavik, where we rented an Air Bnb about a 10 minute walk from the centre which was perfect! Reykjavik was so much more interesting than I expected and I was so pleasantly surprised by the amount of healthy eateries and veganism in the city, along with amazing graffiti and a great vibe! We spent our first day exploring the city and stopped for a light lunch in a local cafe and were instantly reminded of the cautionary tale of how expensive eating in Iceland is! This we later rectified by stocking up at the local supermarket, ready for a week of self catering.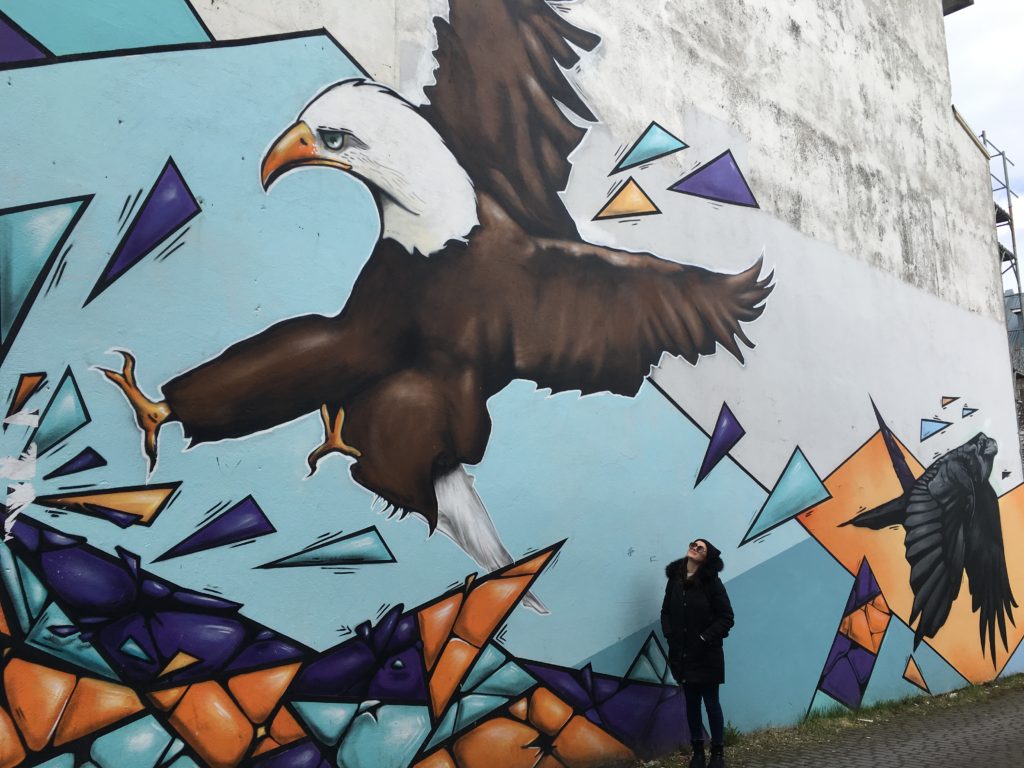 The next day we spent exploring The Golden Circle, which is where our excitement really started to heighten. There is so much driving to be done in Iceland but the scenery of white mountains and vast landscapes makes for endless amazement! We stopped off at þingvellir national park where the tectonic plates meet and we hiked to our first waterfall of the trip. We then took a detour to Selfoss thanks to our SatNav taking us to the wrong place but we had made sandwiches so sat on a bench by the river like the little old ladies we truly are. We then headed off to Geysir (to see the Geysirs) which were really amazing and well worth a visit (even if the Suplhur smell does overwhelm you) and we trudged up the steep hill behind to get a better look… and obviously for some cool snaps of ourselves. Our last stop of the day was at Gulfoss which was absolutely incredible and I was shocked to see pictures from just a few weeks previously of the entire falls completely iced over! After a long day out in the fresh air we headed back to Reykjavik and headed out for some fish and chips on the harbour and as ready as I was for classic battered fish, I listened to my post meal stomach and opted for baked salmon with beetroot; it was a brilliant choice!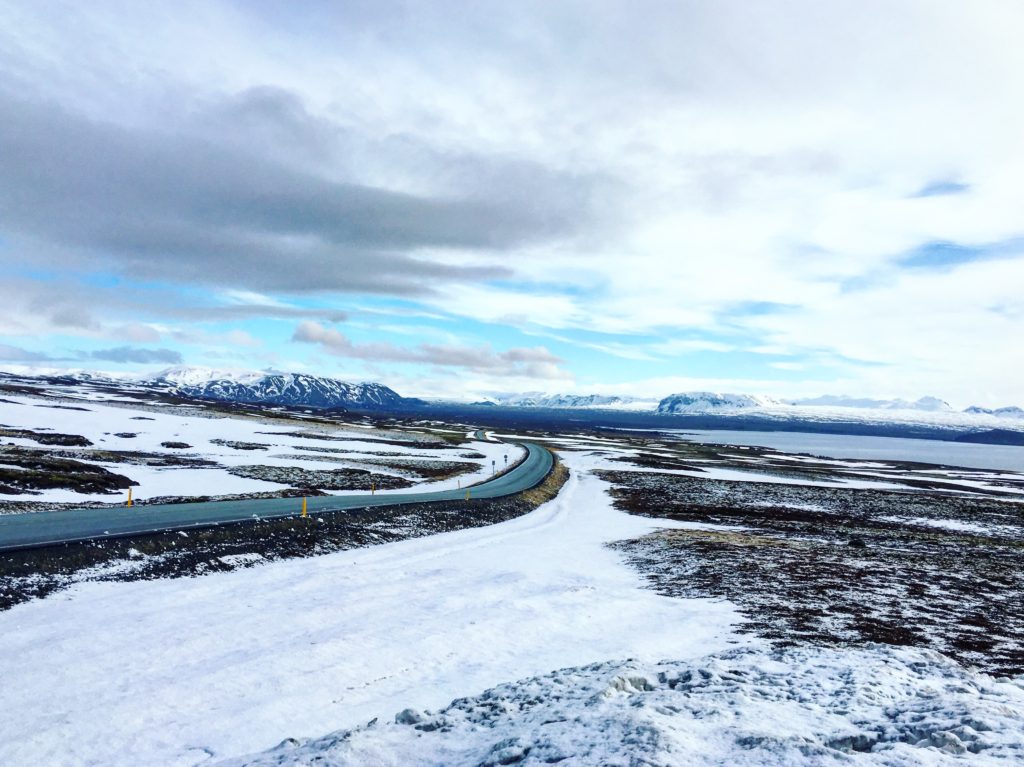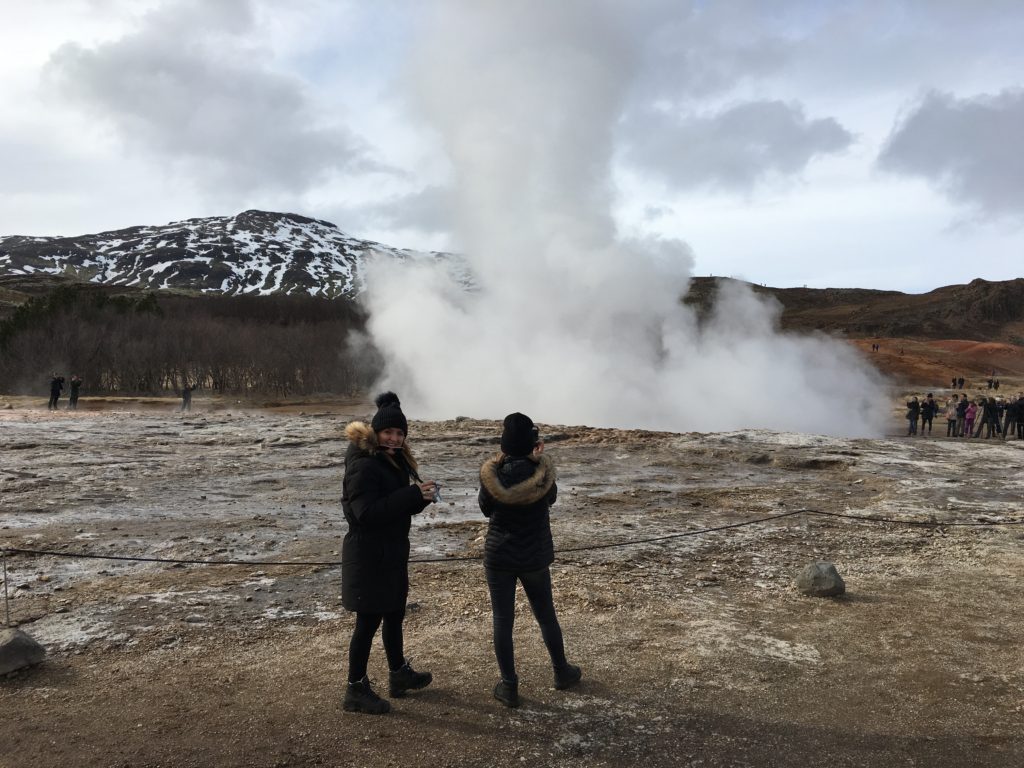 The next day we packed up our car and headed South! Our first stop was at Seljalandsfoss which we hadn't planned to stop at but saw the waterfall from the road and had to stop for the sheer magnitude of it! You can actually walk all the way under it and out the other side… but be prepared to get wet! We then went on to find Seljavallalaug Pool which is an outdoor pool in the middle of this incredible valley which takes about 10/15 minutes to hike to. Unlike most of Iceland's hot springs, the pool wasn't actually naturally heated but it was still welcome warmth to our tired muscles in the middle of a snowy landscape! There is only a little dark room to change in so do come prepared for swimming, it's well worth it! We then ate our packed lunch on one of the hill tops which was the perfect setting for a picnic and were joined by a friendly black labrador that we can pretend didn't only love us for our food…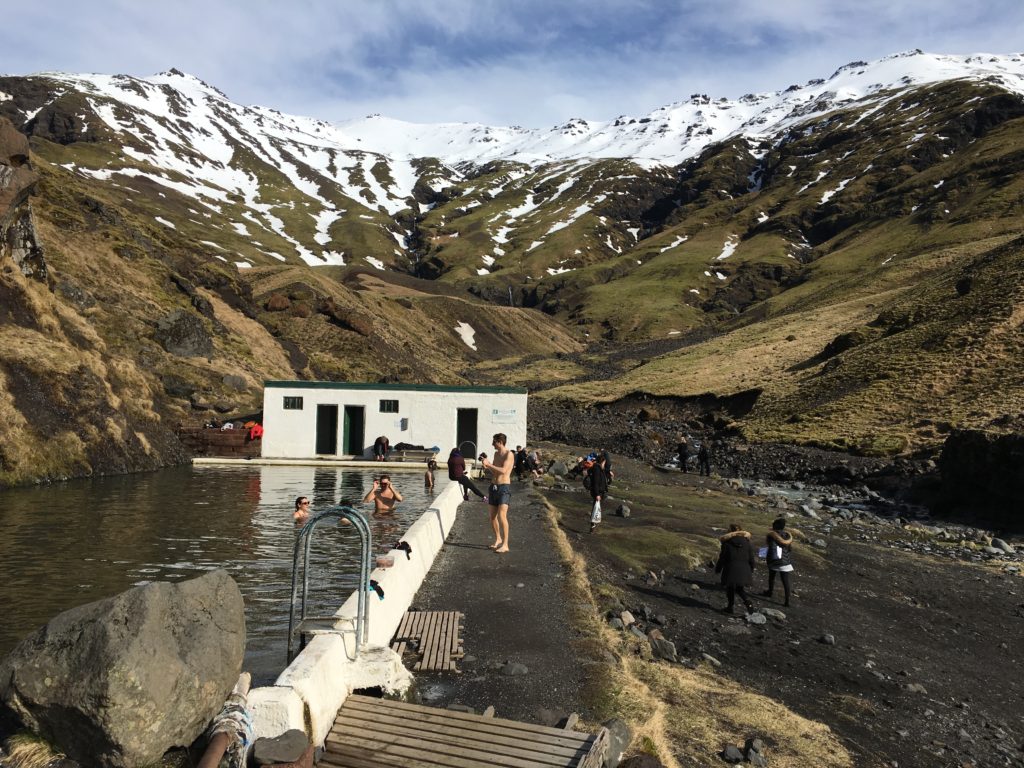 (The bread in Iceland is insanely good- this was a spelt and chia seed combo and tasted amazing!)
After our lunch stop we headed to Skogafoss which I was really looking forward to and was not disappointed. We were pretty tired by this point after hours of driving, but I ran up the steps to watch the falls from the top only to then realise you could see the Rainbow from the bottom… I've never run down something so fast in all my life. And the view was absolutely magical! I had been crossing my fingers so tightly to see this sight and was so glad we did.
Another long, long drive through frozen mountains, black sand and endless green, mossy landscapes which seemed out of this world and what we named 'Troll Land', brought us to our home for the next two nights in the tiny town of Hof. Luckily we stopped at a petrol station for some rye bread and a few other bits earlier on in the day, because in a 2 hour drive we passed nothing…! We rented the cutest little cabin in the world which was absolutely teeny but so cosy and really had everything we needed. Our happiness when we arrived was so intense and we indulged in a delicious meal of pasta pesto (mine was brown rice pasta).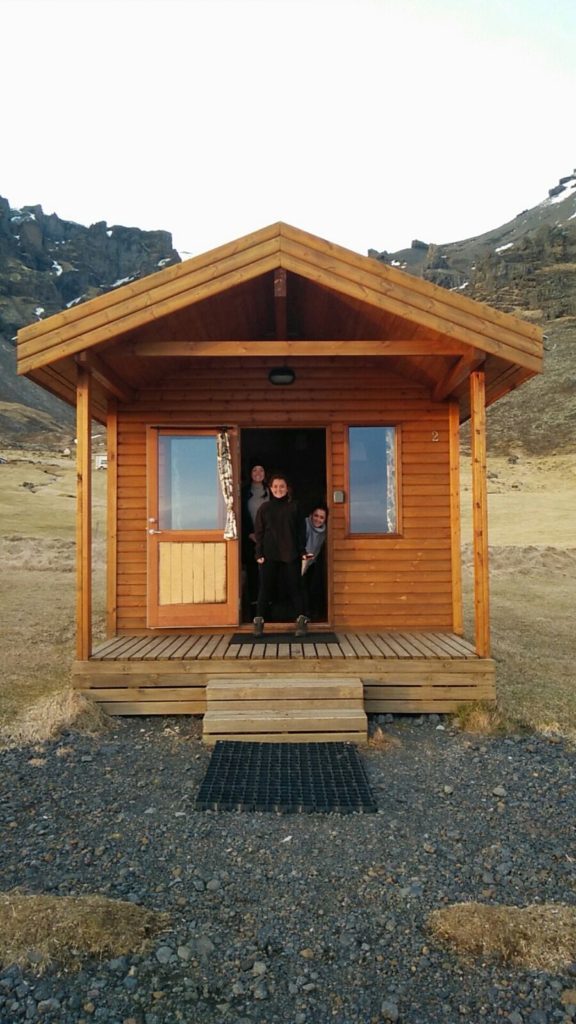 The next day we drove on a little further south to Jokulsarlon Glacier Lake which is on the edge of Vatnajökull (the largest glacier in Europe) and felt like David Attenborough in an episode of Frozen Planet! Here we walked around the lake and were lucky enough to spot a Seal! We stopped for a cup of tea to warm us up and headed for Skaftafell National Park to find Svartifoss (Black Waterfall). This was one of the most amazing waterfalls I have ever seen, purely due to the rock formation surrounding it… it was so otherworldly and probably wasted on my lack of geology knowledge but still an absolutely incredible sight to see and again proving a perfect spot to eat our tuna rye sandwiches! Another hike to reach a summit and we were truly exhausted so drove back to our cabin for a night of Noodle Soup and playing cards… it's okay, I realise how cute we are.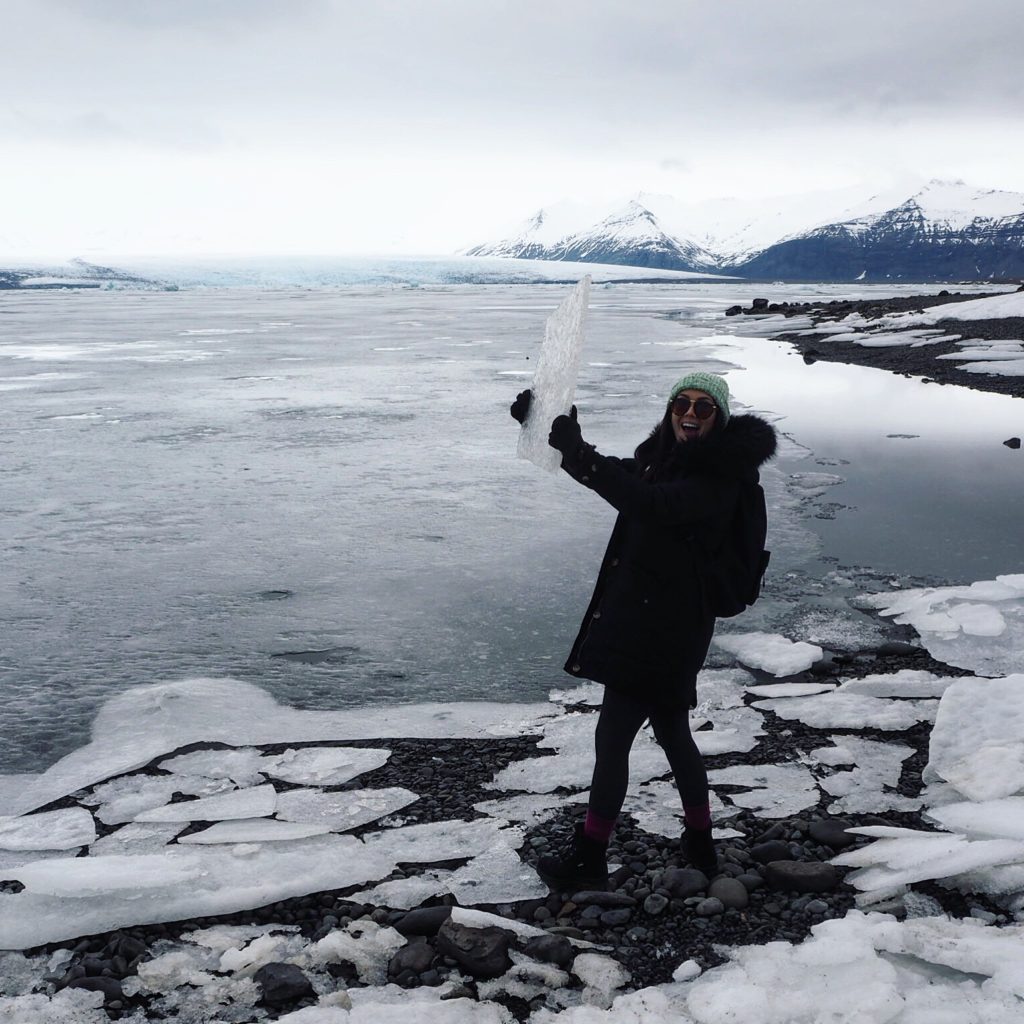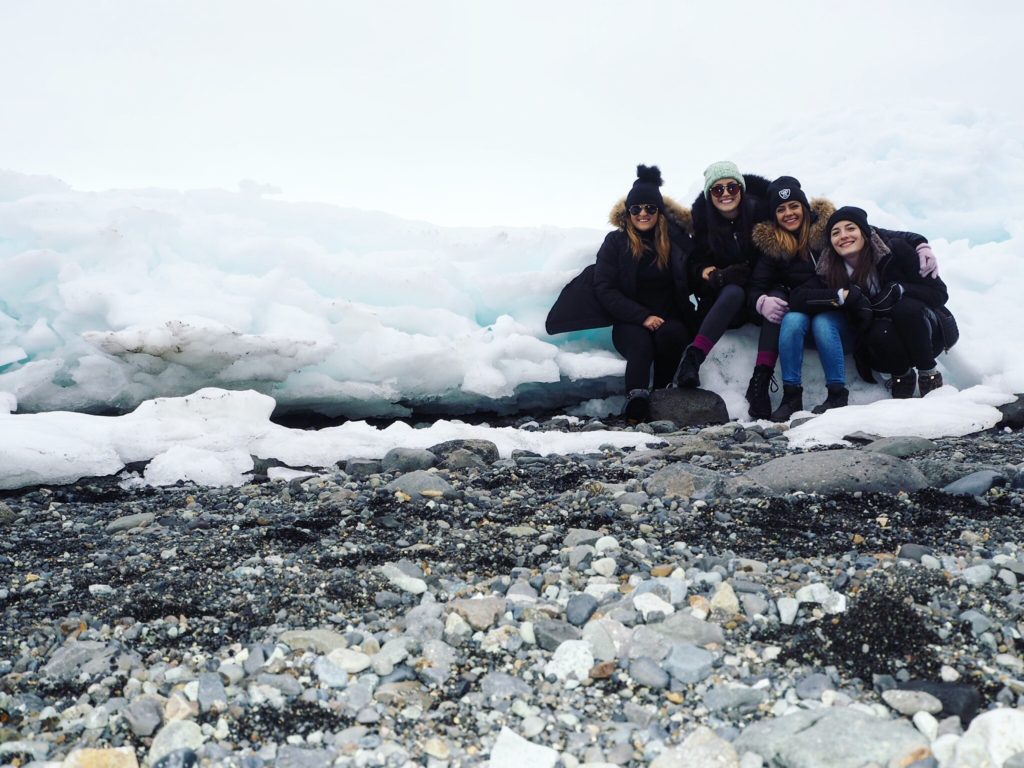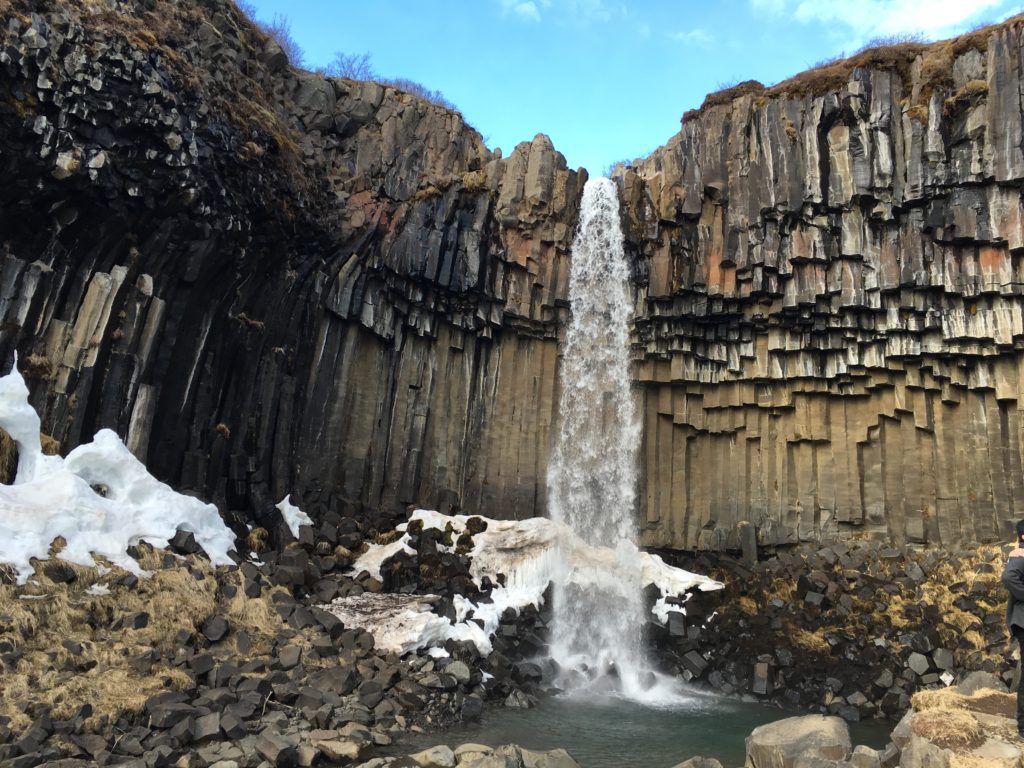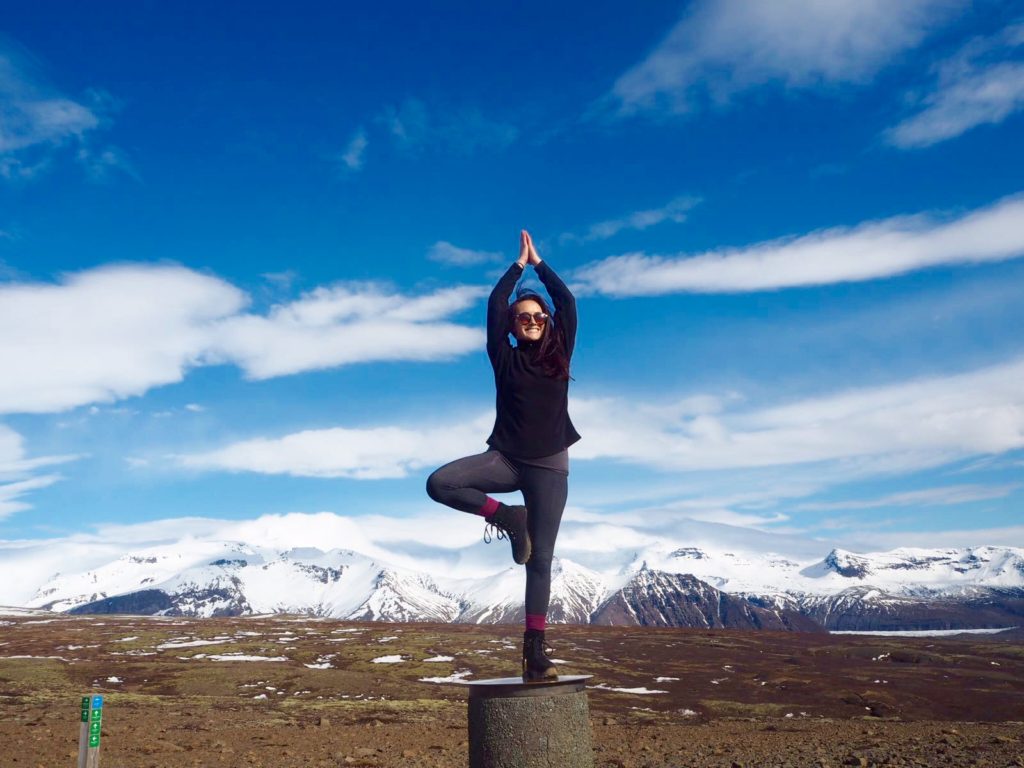 The following day brought a mountain of a drive all the way back past Reykjavik to West Iceland! We had planned on taking a longer route through the mountains to stop at some hot springs but the roads were closed so we hugged the coastal route and failed to get bored of the scenery even after an 8 hour drive! We made it to Snaefellsnes where we had booked another Air bnb and were blown away by the location and accommodation. Our cabin was absolutely perfect with 360 views of the crashing sea, mountains and glacier behind us. We spent the evening again playing cards by the log burner and then we huddled outside with tea and blankets with tightly crossed fingers in hope of seeing The Northern Lights. AND WE DID! And it was the most magical and overwhelming experience I have ever seen and the most perfect evening!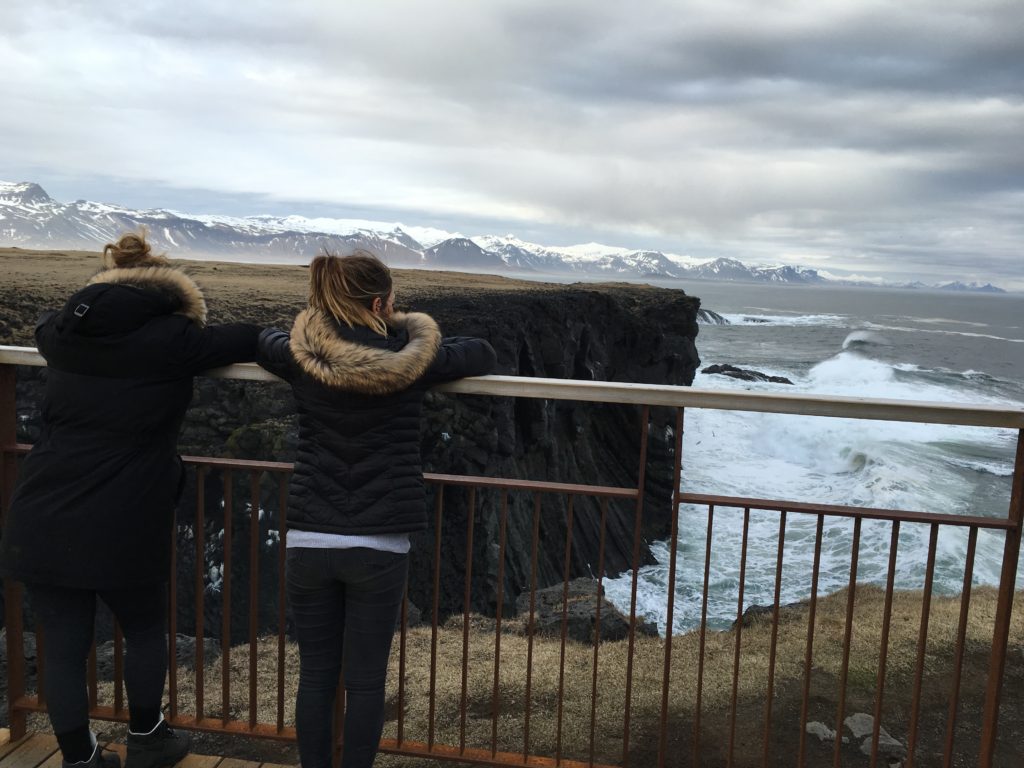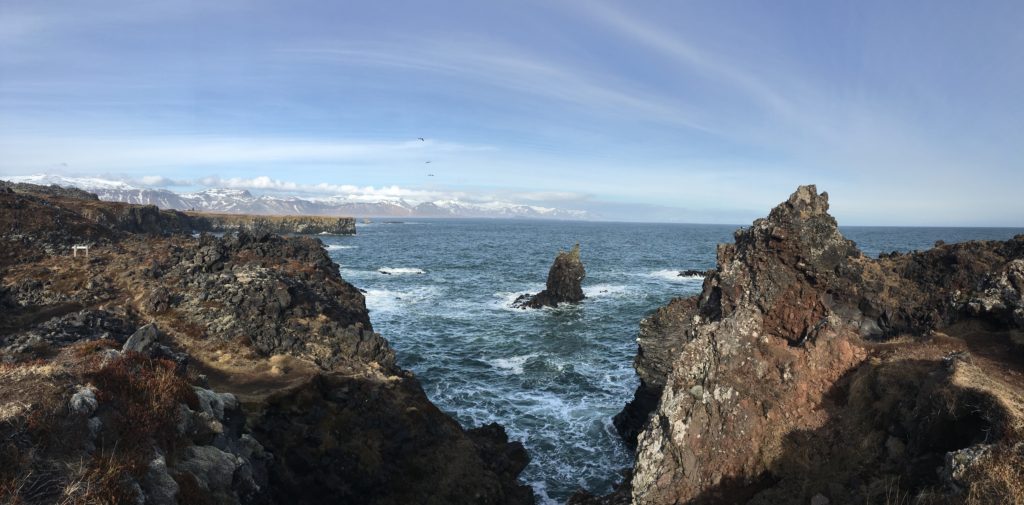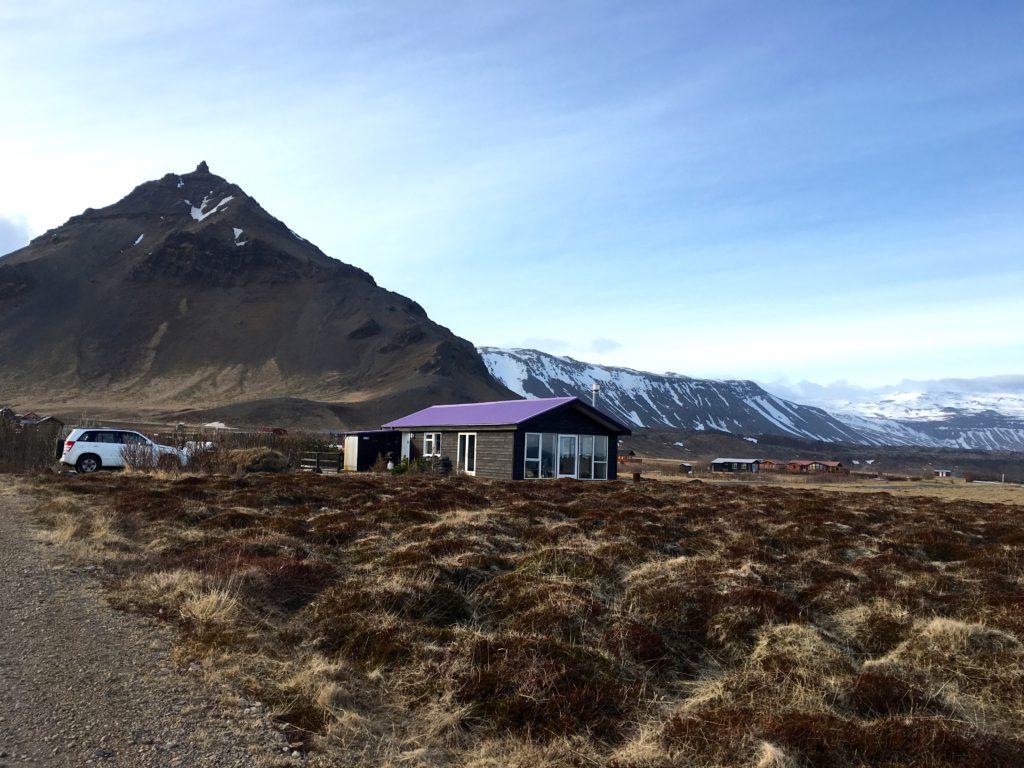 (Our idyllic home for two days)
After a lazy start the next day with some delicious turmeric protein pancakes, we did a real life tourist thing and booked ourselves a Glacier tour in a snowcat to go up to Snaefellsjokull! We didn't really know what to expect from this but doubled up our layers feeling pretty smug about how warm we would be and when we were asked if we wanted a snow suit we still felt like we would overheat… apparently we misjudged how cold a glacier topped volcano at almost 5000 ft would be and were still freezing at the top! It was a massive shame that the day we went was cloudy as we could barely see in front of us at the summit, let alone the views around us but it was still a great trip and definitely worth it! The altitude left us so sleepy and the girls settled for some relaxing time whilst I explored the coastal paths. We then had our last perfect evening eating more noodle soup and were lucky enough the see The Northern Lights yet again!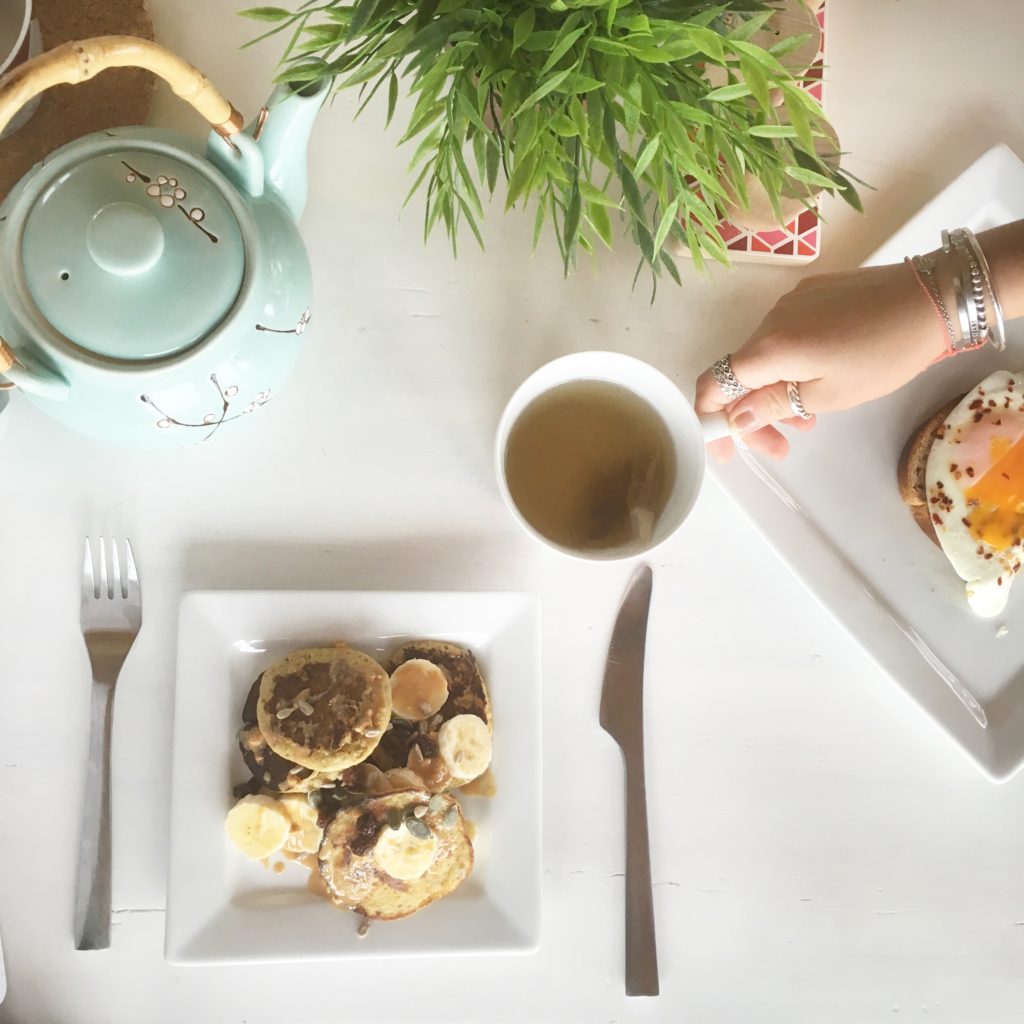 Our final day took us back to Reykjavik and our second real tourist stop of the trip… to The Blue Lagoon! This was a lot like how I expected it to be; a ruined tourist attraction, but it was still a lot of fun, even in the rain. I'm not sure I would recommend the visit as there are so many amazing hot springs in Iceland that are completely free and natural with no commercial aspect to them but it's a fun visit if you have limited time in Iceland and want to experience a hot spring!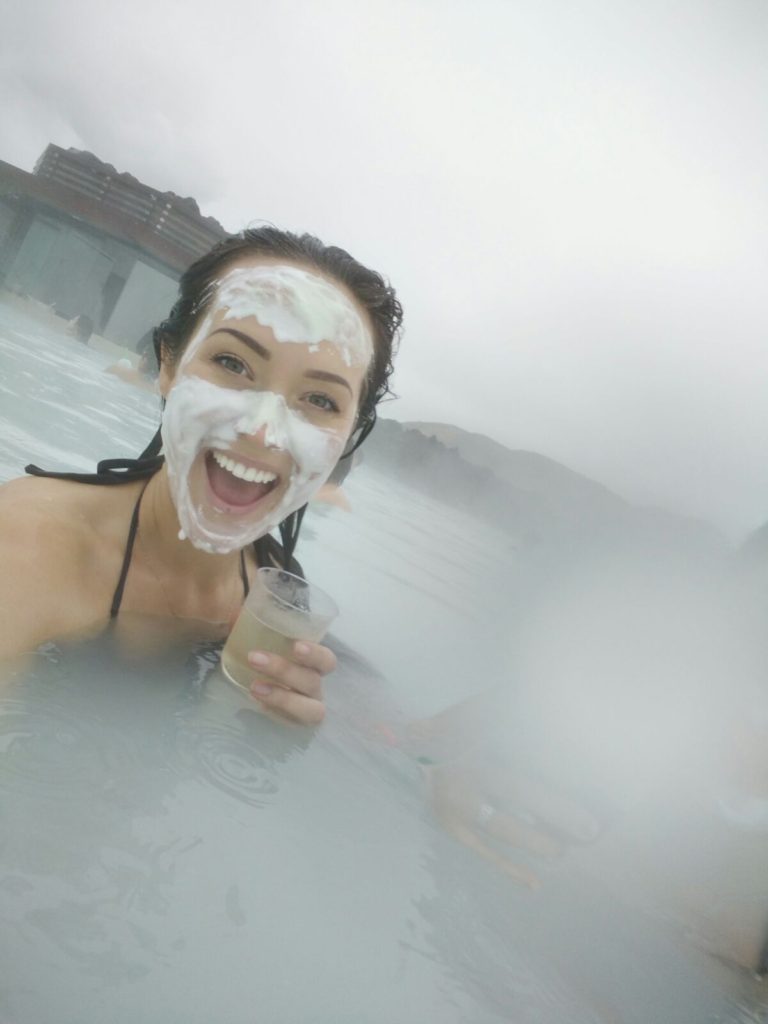 Our visit to Iceland was truly unforgettable and I would recommend it a thousand times over!
Here are some top tips for travelling in Iceland and words of warning:
The food is very expensive so buy and cook where you can!
When on the road, there is next to nowhere to buy food so make sure you have a good supply and plenty of healthy snacks like boiled eggs and fruit.
It is easy to eat healthily anywhere and most days I soaked oats and chia seeds overnight and had them with peanut butter and banana which was delicious.
When hiring a car and they tell you top hold your doors in high wind… DO IT! It's so hard to tell if it's windy outside because there are no trees so nothing to see blowing in the wind. The wind is so powerful and can damage your car more than you realise so do be careful.
If you peek outside your window expecting to see the Northern Lights, you probably wont. Your eyes have to adjust to the darkness and make sure it's a clear, cold night. We regularly checked online to see the Aurora levels.
Get used to nature peeing. There are NO toilets on long drives so get your squat on!
Drink the tap water! I was the foolish tourist buying bottled water, but the tap water is so pure and comes straight from the mountains and is completely free, so drink up!
Enjoy the drives and breathe it all in! It is the most perfect place to feel alive and take some time for your body and health, it really makes you feel like a brand new person!