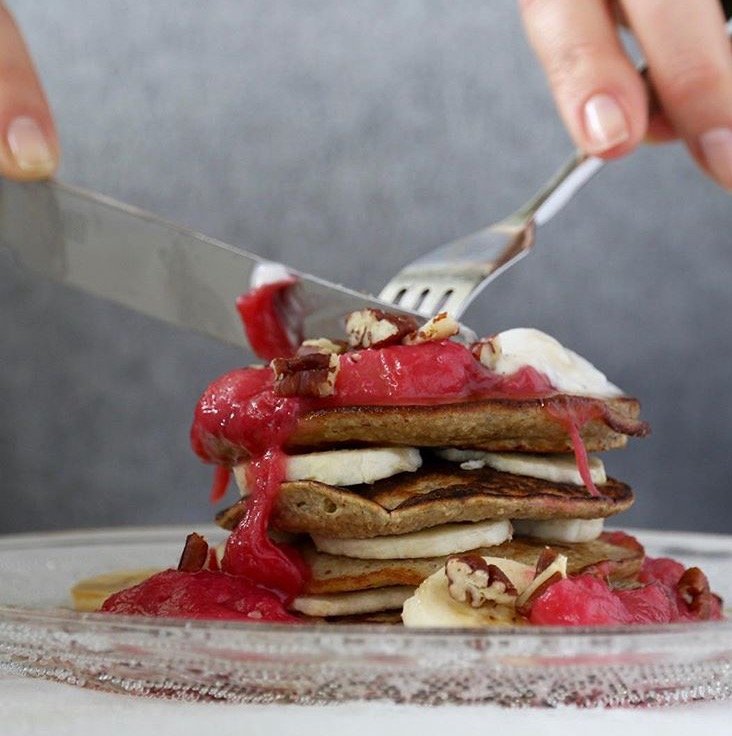 Pancakes are always my go to fancy breakfast when I've got a little more time on my hands to sit back and enjoy breakfast in the morning. They're always made out to be a big deal but really they require no stress and virtually no time at all! These pancakes have been adapted from The Body Coach's protein pancakes and can easily be made vegan!
This snap was taken for Good Roots food festival which you can buy tickets for here! And I made the most delicious rhubarb mess to accompany them… it was a pancake match made in heaven!
They are absolutely perfect for both little and big kids (also known as adults) and can be tailored to your taste with different toppings. They are also ideal for PCOSers as a breakfast staple, stabilising blood sugar levels and kicking ass with added protein and healthy fats.
---
INGREDIENTS
1 banana, chopped
25g oats
1 egg (can be made vegan by using a chia seed egg)
Optional add ons: Cinnamon powder, maca powder, cacao powder, caramelised bananas fried in coconut oil, peanut butter, cacao nibs, nuts, rhubarb mess (recipe below)
METHOD
In a blender or nutri bullet, combine the ingredients and whizz until they form a thick mixture.
Heat a pan with a little coconut oil and pour in the mixture to make disks about 10cm in diameter. (I can usually fit about 3 in a pan at once).
Wait until you see the pancakes bubbling and then flip, cooking for a further 2 minutes.
Repeat until you've used all the mixture!
Layer with banana, berries or your choice of toppings!
Rhubarb Mess: Trim and chop up the rhubarb and place in a pan over a medium heat. Allow to cook for about 5 minutes, gently stirring as you go until the rhubarb starts to melt away. Add 1 tbsp of maple syrup, 1/2 inch of grated fresh ginger and some the zest of 1 lemon and allow to simmer for a further 3 minutes. Remove from heat and drizzle over your pancakes!
---