JOIN ME IN BEAUTIFUL SRI LANKA FOR AN UNFORGETTABLE YOGA ADVENTURE
April 10-18, 2020
ABOUT THE RETREAT
After absolutely falling in love with Sri Lanka in January this year, I am overwhelmingly excited to be joining SoulJourn yoga to invite you to celebrate your Easter Holiday 2020 in beautiful Sri Lanka for an 8 night/9 day yoga adventure!
So join us for a once in a life time, incredible journey from warm beaches to plush tea plantations and mountain explorations all while we delve deep into our yoga practice through community support and shared cultural immersion.
Our retreat will be supporting and volunteering at the Rosie May Foundation which focuses on gender equality by empowering girls and women through education and holistic support to improve livelihoods, break the cycle of poverty and institutionalisation by creating positive futures. We will also be supporting their various projects such as Project Hope .(Which has helped keep 600 children with their single parent mothers in loving family environments); who have created The Future is Pink campaign (the first ever single mom tuk-tuk operation that provides safe transport for women and children).
EXPLORE SRI LANKAN CUISINE
Alongside our incredible adventure to "the Pearl of the Indian Ocean," we will also be embarking on a culinary expedition by diving into local cuisine with a cooking class. Sri Lankan cuisine is a mix of curried vegetables, sweetly spiced chutneys served with hearty staples. So you can refuel after a sweaty morning yoga session with a leisurely brunch of lush tropical fruits, buffalo curd and treacle. Or why not indulge in a stack of coconut pancakes? And if the mention of coconuts has your mouth watering then you may also like to try local flat-breads known as coconut rotis topped with coconut and chilli sambol. Continental options such as eggs, toast and jams will also be available to order along with Ceylon tea and coffee. As the day rolls into night prepare to dine under the stars with new friends whilst fireflies dance overhead. You will be treated to a delicious medley of freshly caught fish, a selection of homemade curries, red rice and poppadoms created by our knowledgeable and talented chef. This nutritious menu of local flavours will feed the senses and promote a long, healthy life.
Prices start from £1684.63 for 9 days.
Click here to reserve your spot and learn more.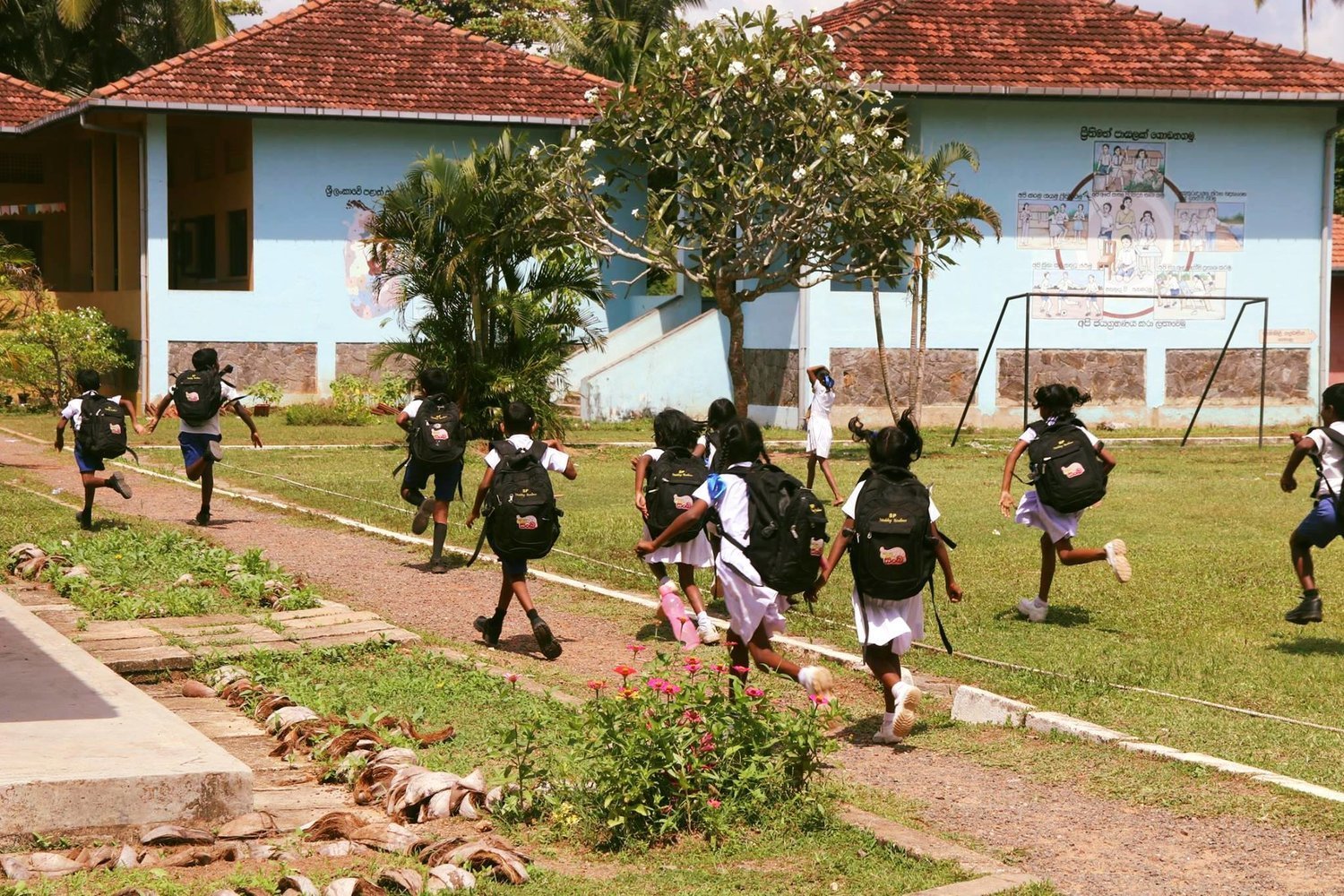 ITINERARY
Day 1: Welcome to Sri Lanka!
Welcome to Sri Lanka. Get picked up from the airport and meet us in our private lake house to settle in, explore the beach, or even take a dip in the lake! We will begin our adventure with an opening circle and yoga practice followed by a delicious and traditional dinner.
Day 2: Surfing + Volunteer
Rise and shine with a morning yoga practice overlooking the lake. Indulge in a delicious breakfast then spend the morning at your leisure; relaxing or exploring. Your afternoon is free to soak up some sun, surf at the beach or relax by the lake before we embark on our volunteer afternoon at the Rosie May Foundation's after school program. We will do a yoga class the kids and their mums as well as an art project.
Sunset yoga session and a beautiful dinner to wrap up our incredible day of service.
Day 3: Cooking Class + Explore
Morning yoga practice followed by another amazing and homemade breakfast.
After, we will be making our own lunch with Project Hope who has helped keep 600 children with their single parent mothers in loving family environments. Project Hope's family strengthening program has achieved a 100% success rate in keeping families together and is transforming the lives of children and communities.
You will have the afternoon at your own leisure… Why not visit a local temple or museum? We will meet back at The Lake house for the evening yoga session and dinner.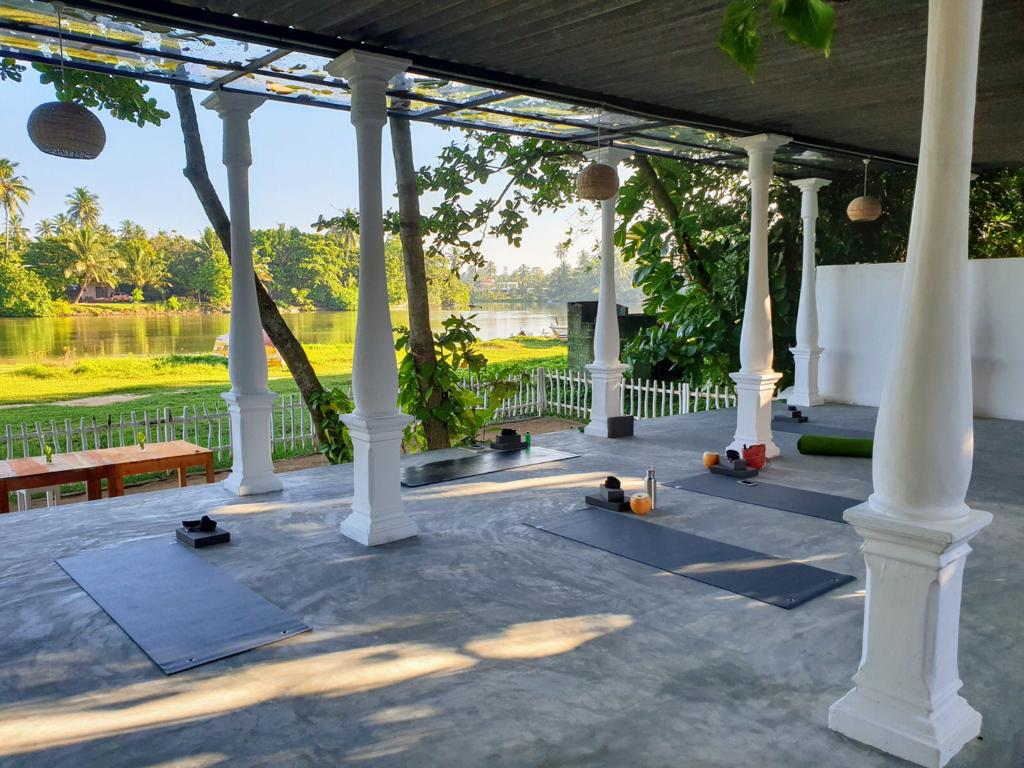 Day 4: Galle Fort Adventure
Wake up with an invigorating yoga practice with another nourishing breakfast to follow. Our adventure to Galle Fort will embark on beautiful pink tuks through "The Future is Pink" project which employs single mothers to generate a sustainable income for their families and provide personal safety for women and girls travelling to work and school.
You will have the afternoon to explore Galle Fort, a 431 year old architectural and archaeological monument. Now named a UNESCO World Heritage (for it's exposition of "an urban ensemble which illustrates the interaction of European architecture and South Asian traditions from the 16th to the 19th centuries"), the fort is comprised of a mix of historical landmarks and boutiques, cafes, art galleries, and hotels to make for a melange of exploring. We will all meet back at the lake house in the early evening for a relaxing yoga session and exquisite dinner.
Day 5: Turtle Hatchery Visit
Wake up to another amazing lakeside yoga session. Enjoy a fresh and hearty breakfast before we head out to visit the Travelteer Turtle Hatchery that aims to protect turtle eggs and release newborn turtles into the ocean safely. Expect to learn about the plight of the sea turtle, care/monitor these beloved oceanic creatures as well as clean enclosures and maybe even release these beautiful animals back into the ocean (depending on the time of hatching).
After a leisurely lunch, we will head back to The Lake House for an Ayurvedia massage. Followed by a gentle yoga practice and meditation.
Day 6: Udawalawe National Park
Get ready to hit the road for our next adventure! After a morning yoga session and breakfast we will depart from the beautiful Lake House to Ella, a gorgeous and plush town northeast known for its tea plantations and biodiversity. We will take the scenic route, stopping for local snacks and to discover the local wildlife at Udawalawe National Park. Here we will go on a safari drive to see elephants, wild boar, water buffalo, cormorants, and other protected species. We will then head to our new accommodation; the outstanding 98 Acre Resort. (This spot is seriously unbelievable). Unpack and unwind or if you would prefer to stretch your legs after the journey take the short hike from the hotel up to Little Adam's Peak before relaxing with evening yoga and dinner.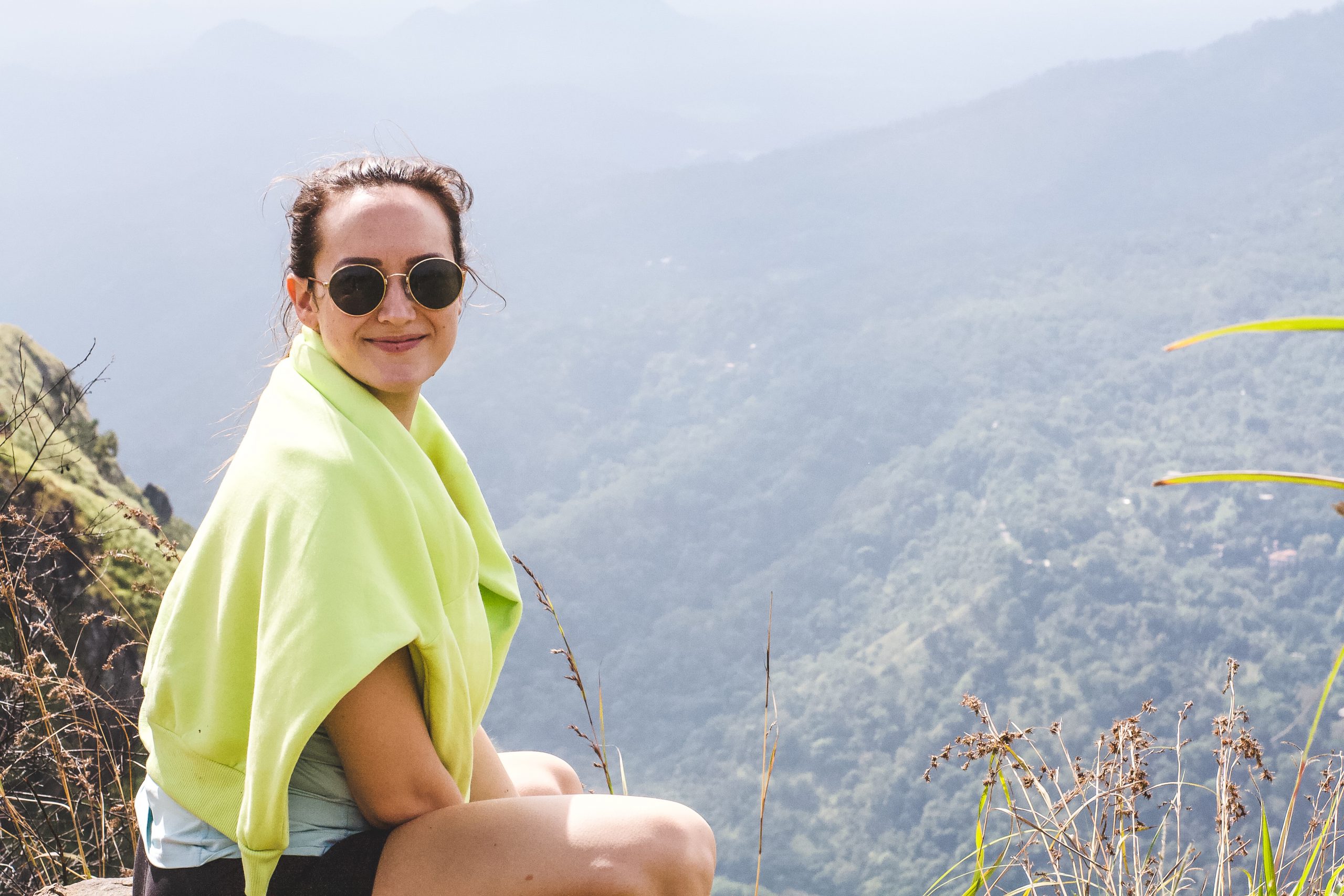 Day 7: Ella Rock
Beat the crowds to swim in the natural waterfalls of Ella by creeping out before breakfast. Then come back and enjoy eating in front of an insanely beautiful view. Choose either to relax in the luxurious hotel surroundings, enjoy a spa treatment or explore Ella's shops and cafes. Stretch out before today's hike with a yoga class designed to warm up the body and calm the mind. In the late afternoon when the temperature is beginning to cool we will embark on a gorgeous and scenic hike to Ella Rock. There will be plenty of opportunities to stop and take in the beauty of nature and gorgeous panoramic views. We will hike down for dinner under the stars.
Day 8: Train Journey to Kandy
Rise and shine with an early morning yoga practice and breakfast before heading to the town's novelty train station for one of the world's most famous train journeys. Take in the sights and sounds on this incredibly scenic 2.5 hour journey to Nuwara Eliya. We will then grab lunch and head off to a tea plantation to learn all about how tea is cultivated in the region. From there we will travel onto Galvilla Spa Hotel in Kandy where we will finish our retreat with an evening yoga session/closing circle and one final group dinner.
Day 9: Departure Day
Sleep in a little later this morning and relax before getting ready for your departure. Enjoy a last group breakfast together and then depending on what time your flight is, today is a "choose your own adventure" day. Optional add ons include the Pinnewala Elephant Sanctuary, Botanical Gardens, or the Buddhist Temple of the Tooth before getting ready to head to the airport.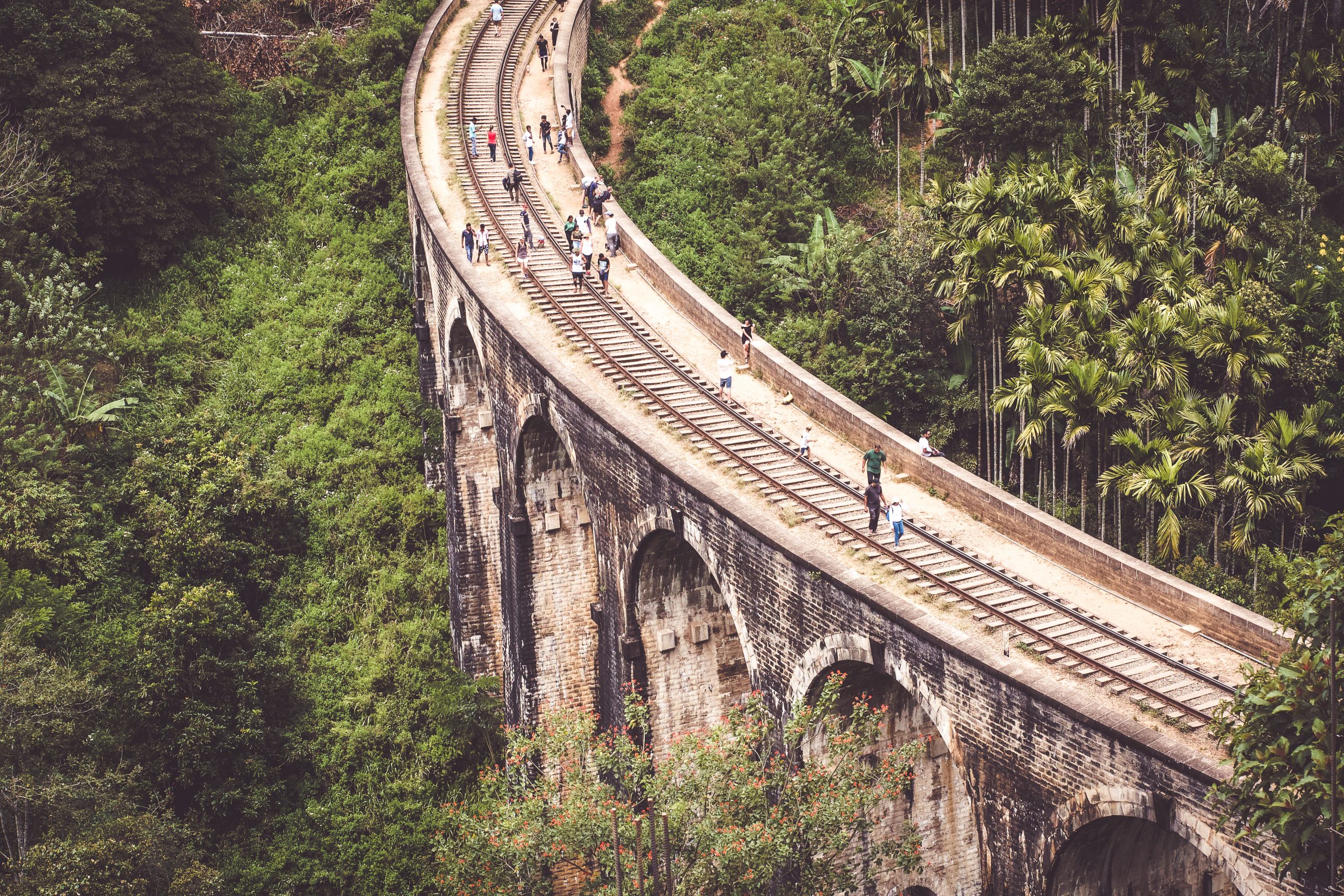 THE BREAKDOWN
Prices start from : £1684.63
Head to SoulJournYoga to find out more and reserve your place!
Included:
Breakfast, Dinners, and

$300 tax-deductible donation to Rosie May Foundation

8 night/9 accommodations

Breakfast and Dinner, Some lunches

Activities and tours (Udawalawe National Park, Ella Rock, Tea Plantation, Turtle Hatchery, etc)

Airport pick up and drop
Not Included:
Lunch at the Lake House (some listed meals)

International Flights

Add Ons (Pinnewala Elephant Sanctuary, Botanical Gardens, Temple of the Tooth, etc.)

Massages/Spa Treatments

Any extra supplies for teaching or to be donated to the Rosie May Foundation

Gratuity
I can't wait for you all to join!
*** Please note that we ask you to keep and open mind and a "go with the flow" attitude as we will be in a different country and things sometimes can get delayed or adjusted due to circumstances out of our control. So, embrace the spirit of adventure and enjoy your epic journey that awaits you!