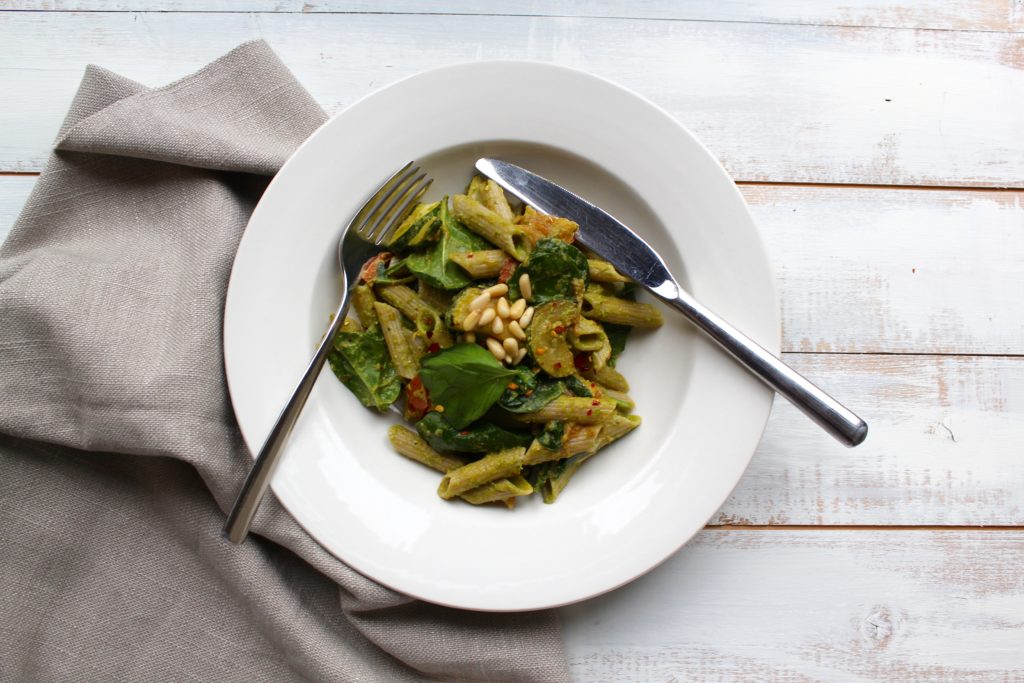 Pesto Pasta is one of those ultimate comfort food meals and one that I think speaks to the soul. It was always my go-to at University when I couldn't be bothered to cook anything interesting (the extent of my meals were usually a bag of pre-packed veg and a pre-made veggie burger of some description) and it's definitely a dish that I missed when eliminating pasta and refined sugar from my diet.
However, a recent obsession for me has been the discovery of Brown Rice Pasta which came into my life when working for The Mae Deli when doing a lot of recipe testing with it and I genuinely prefer it to the regular old stuff. Brown Rice pasta is naturally gluten free and higher in both protein and fibre, making it a perfect alternative! I use the Waitrose brand which you can find in the 'free from' section but Dove's farm also stock it which can be found in most health food shops.
Teamed with a homemade pesto full of fresh ingredients and a heap of veg, this dish makes for not only a super comforting meal but also an incredible nutritious and delicious one to be enjoyed at any time!
---
INGREDIENTS (Serves 2)
For the Pesto:
1 handful pine nuts
juice of 1/2 lemon
2 handfuls of fresh basil
1 clove garlic
1 tbsp olive oil
handful of spinach
half red chilli (without seeds)
salt and pepper to taste
½ tbsp. apple cider vinegar
For the rest of it:
80g Brown Rice Pasta
half a courgette (chopped into discs)
2 big tomatoes
big handful of spinach
METHOD
In a food processor or small mixer, combine all of the pesto ingredients and allow to mix away until well combined, adding more olive oil if needed and any more salt to suit your taste.
Cook the brown rice pasta as per the packet.
Whilst the pasta is cooking, heat a frying pan with a little olive oil and add the courgette, tomatoes and spinach.
Once the pasta is cooked, drain it and add it back to the pan with the pesto (you may not need all of it) and the veg and mix well.
Serve with fresh basil and parmesan (if not vegan).
Enjoy! 🙂
---
BUY THE PRODUCTS: